Maximizing Your ROI: How Consulting Services Can Improve Your Bottom Line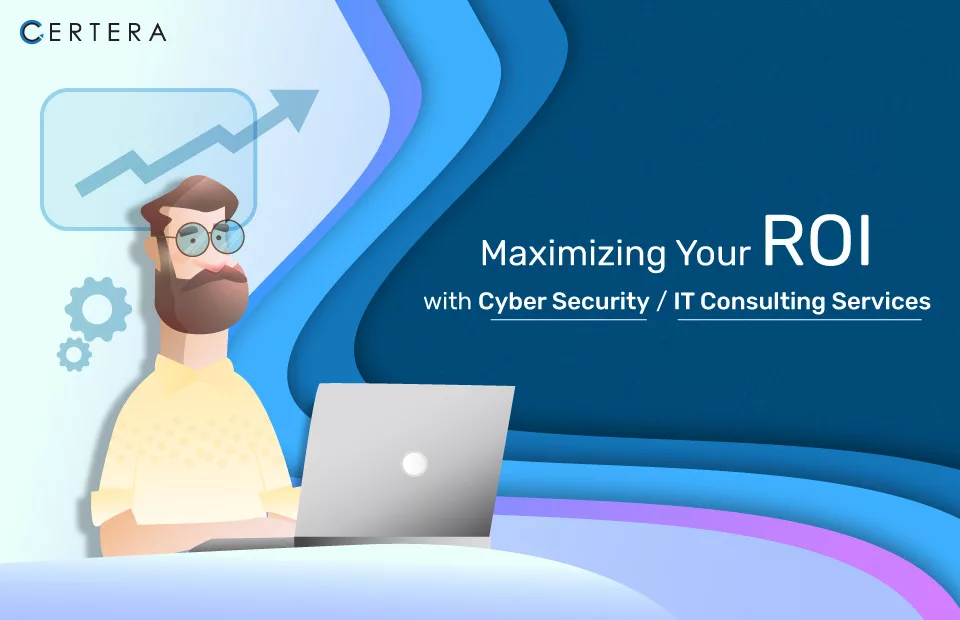 Are you trying to figure out how to improve business operations to the next level? With the proper IT consulting services partner/business consulting services like Certera, you can maximize and optimize your ROI in ways that will impact how your organization works.
To accomplish this, it could be essential to have an expert group of consultants that can analyze data, develop customized remedies, and manage any implementation-related challenges.
It is simpler for organizations worldwide to increase their productivity and efficiency while reducing risks related to digital transformation initiatives when they have access to excellent consulting services.
The Importance of IT Consulting for Maximizing ROI
Collaborating with a reputable consultation expert is a smart move when trying to maximize ROI.
With the help of a skilled consulting partner, businesses can boost their platform usage, implement new revenue-improving projects into effect, determine areas for improvement, and so on.
By utilizing a consultant's experience, businesses can optimize their operations, improve efficiency, and eventually increase revenue.
A trustworthy consulting partner will collaborate closely with businesses to assess their needs and provide a solution specific to their objectives. Moreover, they could provide significant assistance at every stage of the sales process, from training and support to constant maintenance and updates.
With an experienced and skilled consultant, businesses can achieve excellent results and upgrade their bottom line.
Unfortunately, organizations lose an average of 20–30% of their income due to ineffective business procedures. That much money was left on the table.
Improving company processes is one of the finest methods to regain control over this lost money. You can quickly find and eliminate inefficiencies with a technology consultant who proficiently provides the correct process optimization methods.
This article mainly focuses on "the way professional consulting services or top consulting firms are capable of helping organizations achieve their objectives and maximize profitability."
Before moving on, let's talk about ROI (Return on Investment)
What Exactly is ROI?
Profitability to investment cost is expressed as the ROI (Return on Investment) ratio. In other words, if you obtain a high return on investment, your strategy is successful. It measures the effectiveness and productivity of an organization's investment.
Your strategy will work well if the figure is higher. You should change your investment strategy if it's lower. We're finding that this formula is no longer valid since it is distinctly black and white.
Currently, the return on investment can be calculated using the following metrics:
Increased profitability
Awareness of a brand
increasing sales
reduced funds spent.
Operational efficiency
cutbacks in production or administrative expenses
enhanced client satisfaction
What Are the successful ways a Consulting Partner Can Improve ROI?
There are several strategies and methods that companies could employ to ensure the profitability of IT consulting engagements:
1. Specifying Your Goals/objectives
The Significance of Determining Objective:
The success of every IT investment depends on the definition of specific goals. Defining attainable objectives that complement the overall business plan is required. Businesses may invest in technology that doesn't yield the promised results if their goals are unclear, waste money/resources, and miss out on opportunities.
Define a few objectives and link them to specific business processes, such as:
On-time completion rate (OCR): the number of procedures that complete their tasks in the allotted time.
Cost savings: The total money saved by utilizing a specific technique.
Efficiency/profitability: A measure of efficiency/profitability is the ratio of a business process's revenue to its operating expenses.
Error rate: the number of processes with errors or that fail to meet the necessary standards.
Throughput: The aggregate number of processes finished within a particular period.
Resource utilization rate: The number of resources utilized for a specific process.
Client satisfaction: measures how happy consumers are with a specific process's results.
Quality: It is the level or degree to which a process meets the requirements.
IT Consulting's Role in Establishing Goals
IT consultants play a significant role in determining objectives for IT investments.
They collaborate with businesses to comprehend their goals, gain an in-depth understanding of their IT architecture, and provide solutions that help achieve their objectives.
IT consultants could help organizations identify areas where technology can be utilized to achieve business objectives and suggest technologies that can produce the desired outcomes by engaging effectively with businesses.
2. Find and analyze areas of improvement (Performing an IT assessment)
The Significance of Performing an IT Assessment
A thorough examination and analysis of an organization's IT infrastructure, including its hardware, software, systems, and procedures, is known as an IT assessment.
An IT assessment's principal objective is to pinpoint areas that need improvement and create plans for enhancing IT performance. Businesses should do an IT evaluation for several reasons.
Primarily, an IT assessment assists in identifying possible risks and weaknesses in an organization's IT infrastructure. This can involve network security issues, software or hardware vulnerabilities, or a shortage of disaster recovery and backup techniques.
By recognizing these hazards, businesses may take preventative action to mitigate them before they cause serious harm.
In the following step, an IT assessment assists in ensuring that an organization's IT infrastructure aligns with its broad objectives. Businesses can assess their IT infrastructure to see whether their technology investments are helping them achieve their overall objectives or whether their IT strategy needs to be modified.
The Contribution of IT Consulting to IT Assessment
IT consulting companies could be of tremendous assistance when doing IT assessment assessments. IT consultants could efficiently assess an organization's IT systems and procedures since they have in-depth knowledge and skill in assessing IT infrastructure.
Additionally, organizations can maximize their IT infrastructure with the support of IT experts who can provide insights and recommendations based on industry best practices.
To perform an IT assessment, IT consultants might also use specialized tools and methodologies such as Security Assessment Tools, Network/performance Assessment Tools, and various approaches, including top-down, bottom-up methods, benchmarking, gap analysis, risk analysis, SWOT analysis, etc.
These technologies and tools can help identify vulnerabilities, challenges, and threats in an organization's IT infrastructure and offer data-driven suggestions into areas where technology can be enhanced.
3. Prepare a Roadmap
Once areas for improvement have been identified, IT consultants create a roadmap outlining the activities required to achieve the objectives. The schedule, required resources, and benchmarks for obtaining the desired outcomes are described in this roadmap.
Road map originates by understanding the current process: what's successful and what isn't.
The Significance of an IT Roadmap
creating an IT roadmap is essential for numerous reasons,
1. Alignment with Business Objectives: An IT roadmap assists in coordinating technological initiatives with business objectives. The organization's long-term objectives are supported by this alignment, which ensures that technology investments are strategic.
2. Effective Resource Allocation: A practical IT roadmap assists in determining the priorities for technology expenditures and effective resource allocation. Setting priorities ensures that resources are allocated to projects that will have the most positive effects on the company's bottom line.
3. Possibilities for process automation: Businesses should seek opportunities to automate their processes. This can involve integrating current systems to remove manual stages or employing software to automate some operations. Automation could increase productivity while reducing mistakes for enterprises.
4. Avoid redundant or not essential steps: Roadmap will help businesses to look at the processes to identify any processes that are consuming resources and time without adding actual benefit. This may be achieved by evaluating the tasks and activities to see if they are required for the process to succeed.
5. Risk management: An IT roadmap reduces the risks related to financial expenditures in technology. It offers a framework for determining potential threats and developing mitigation solutions.
How IT Consulting Contributes to the Development of an IT Roadmap?
A comprehensive understanding of the organization's business goals and technological environment is necessary for creating an IT roadmap. IT consulting companies are in a unique position to offer this expertise.
Here are some ways that IT consultancy may assist businesses in creating a successful IT roadmap:
1. Proficiency: IT consulting companies are knowledgeable in various sectors, including enterprise design, IT governance, and technology strategy. Thanks to their knowledge, experts can provide guidance and perspectives on the appropriate technological investments to help businesses reach their goals.
2. Objectivity: Tech consulting companies could provide an objective viewpoint on technological projects. They could assess the organization's IT environment, identify gaps and suggest how to patch them.
3. Coordination: IT consulting companies may help businesses, and IT stakeholders work together. Because of this teamwork, the IT plan is supported by all relevant parties and is under business objectives.
4. Best Practices: IT consulting companies can offer frameworks and best practices to direct the development of an IT strategy. These best practices ensure the roadmap is detailed and consistent with industry standards.
4. Implement and track.
Implement the Recommendations into Action
Once the roadmap has been created, it's time to put the recommendations into practice and monitor how effectively the objectives are being attained. IT consultants work alongside organizations to ensure the roadmap is being followed and to make any modifications.
Even if IT solutions have several potential advantages, choosing the best ones for a particular company can be challenging.
Here, IT consultancy can be beneficial
Determine which IT solutions will best suit their needs and objectives.
Create a plan for implementing various solutions, considering any potential difficulties or obstacles.
Manage the implementation procedure to guarantee fast and efficient integration of the solutions.
Continue to support and maintain the solutions to guarantee their success. Businesses can ensure they select IT solutions wisely and maximize their potential advantages by engaging with an IT consultant.
How IT Consulting Helps Develop a Secure Business Environment?
Nowadays, the effects of cybercrime on society are extensive and potentially disastrous. Certera – A Certificate Authority (CA) is a trusted third-party organization providing various cyber security-based consulting services.
It is possible to develop a cyber-safe environment with the help of Certerassl's team of cyber security professionals.
Certerassl's deep expertise in the field of cyber security consulting enables them to assist businesses in identifying the risks they encounter and developing mitigation strategies.
Certerassl may identify vulnerabilities before a breach occurs through threat modeling and risk assessment operations, including vulnerability scanning, penetration testing, and attack surface analysis. The experienced consultants will also suggest suitable measures that minimize attack surfaces or reduce breach damage.
Some of the consulting services offered by Certera include:
Cyber security architect services – assist organizations in designing and creating secure systems that protect their data and sensitive information from criminals on the internet.
Threat Modeling- Certerassl's threat modeling specialists can assist organizations in understanding the potential hazards they face and recommending actions to minimize attack surfaces or reduce the impact of a breach.
The DevOps Services- Creating apps or services for deployment is more complicated. However, Certerassl DevOps services make it much easier by establishing development environments, rolling out software upgrades, monitoring systems, and quickly fixing issues.
Procurement Assistance- Certerassl procurement assistance services could help you select the appropriate technologies, products, and solutions to meet your demands for cyber security.
Additionally, Certerassl provides complete frameworks for secure operations across all tires of operations, from the cloud to the end user, for the software development life cycle.
5. Measuring and monitoring ROI
3-step analysis
After implementing your modifications, you must evaluate the outcomes through evaluation and measurement. To ensure long-term success, repeat these three stages for further process improvement.
Measure: Collect information on the performance of the new processes. This information must be gathered over an adequate amount of time and must precisely follow the process KPIs determined in phase 3.
Analyse: Compare the data with the previous method. What progress are you noticing? Certain places may be where you were hoping for progress but need to see it. Are any unexpected places of impact? This could be an ideal time to have a conversation with the impacted team members to get a complete picture of how the new procedures are working.
Refine: No technique for process improvement will generate excellent outcomes immediately. Make use of this as a chance to improve your procedures even further.
Until the organization is pleased with the success of its business process changes, this cycle of measuring, analyzing, refining, and measuring once again should be carried out.
The contribution of IT consulting to tracking and analyzing ROI
IT consulting services are beneficial to organizations in helping them monitor and assess ROI using specialized tools and methods. For instance, they can follow the performance of investments in real-time using data analytics tools.
To assist organizations in making better investment decisions, they can also use financial modeling tools to anticipate the ROI of future investments.
A crucial indicator used by organizations to evaluate the efficiency and profitability of their operations is ROI (Return on Investment). Monitoring ROI is essential since it enables organizations to assess current investments' success or failure and plan for future ones.
Google Analytics, A/B testing, and Customer relationship management (CRM) software are a few examples of tools and methods for tracking and measuring ROI.
Summary
In today's constantly evolving marketplace, IT consulting has become crucial for companies striving to stay competitive and maximize their return on investment.
Businesses can gain a competitive edge, increase operational effectiveness, and boost expansion and profitability by utilizing the expertise and skills of IT consulting partners.
However, companies must approach these engagements carefully to maximize ROI with IT consulting. To accomplish this, specific business objectives and goals must be established, the best consulting partner is required, effective communication should be developed, and constant monitoring and assessment must be carried out.