Role of Website Security Services in Building and Maintaining Customer Trust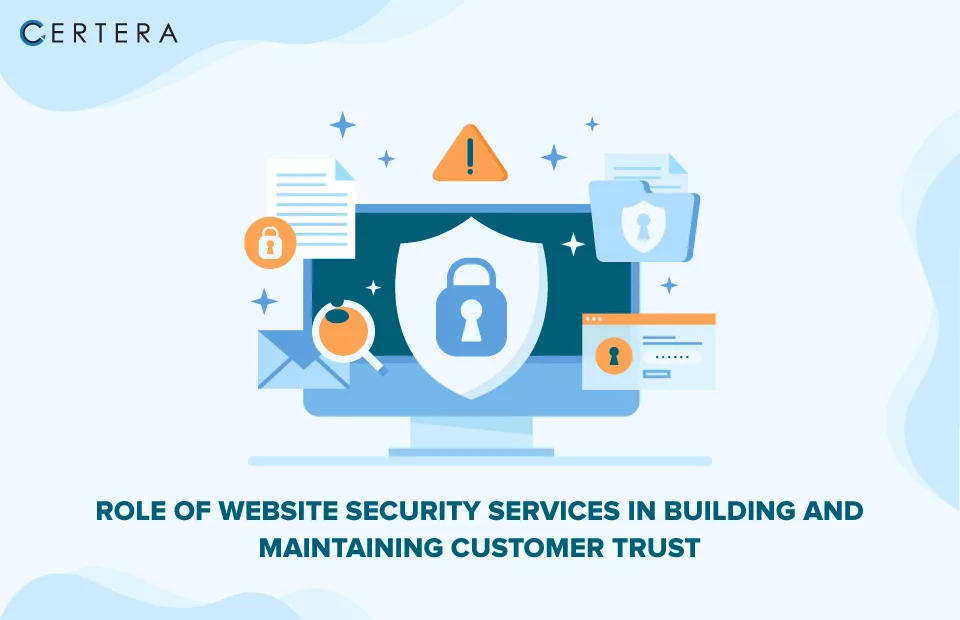 Website security is more important than ever today. With the ever-increasing cybercrimes around us, the role of Website Security Services in building & maintaining customer trust has become more critical. The right service can help mitigate a host of website attacks and protect customer data at every level.
SQL Injection, bad bots, and cross-site scripting are some of the most common attacks lurking on the internet today. Cross-site request forgery and Malware are also an active part. To help crack these risks, we will help you learn about Website Security Services in detail. Through this blog, we will help you to understand how you can pick the right services & improve brand reliability among customers.
What Are Website Security Services?
Website Security Services focus on taking the right security measures to render safe website services. This helps protect these websites from external attacks & values their confidentiality without any risks of exposure to third-party penetration. In this process, website security services work towards protecting data integrity and building better authentication. SSL Certificate is a famous example of that security service.
It also helps businesses to improve their infrastructure security, empower trust & confidentiality among customers and expand their client base on time.
The Benefits of Website Security Services for Businesses and Consumers
1. Protection Against Malicious Attempts to Gain Access
Website Security Services providers utilize diverse measures that can offer protection against malicious attempts to gain access. Some of them are
Firewall Protection
A firewall network security system that monitors & controls incoming as well as outgoing network traffic based on predetermined security rules. It acts as a barrier between a trusted internal network & an untrusted external network, such as the Internet, and can help prevent unauthorized access to the internal network or the transmission of malicious traffic.
Regular Updates
Website Security Service providers come up with regular updates that help abstain vulnerabilities and system dysfunctions. With regular updates, the risk of malicious attempts to gain data access reduces exponentially because the software and the system are consistently upgraded.
Control Of Access
They only give authorized networks the right to access their systems & servers. IT helps reduce the risk of malicious attacks gaining access considerably. The stringent access control policies are designed thoughtfully to prevent any access that is not authorized.
Malware Scan
They also conduct timely Malware scanning to ensure the safety of data & access. Since Malware is a common cybercrime, scanning it helps ensure that the data and the system are safe from its clutches.
Secure Login
Using two-factor authentication & other important protocols to make sure the login credentials are safe also the system of logging into your data is secure are other benefits of website security services. It directly prevents unauthorized access & builds better customer trust.
Learn about the Largest DDoS Attacks Reported Till Date.
2. Prevention of Data Breaches and Cyber Crime
Website Security Service providers recognize the importance of data security. They know that data breaches will not only hamper diverse business operations and lead to revenue loss. But it will also elevate the risk of cybercrimes in the coming years and jeopardize the healthy interaction of customers with their confidential data.
This is why they prevent data breaches and cybercrimes by using strong login credentials. Two-factor authentication and other secure login systems contribute to this. Certain physical security practices are also involved in making data breaches more difficult to occur.
3. Increased Customer Trust, Loyalty, and Satisfaction
Customers are constantly relying on businesses to keep their confidential data safe. This is important so that their data is left unhampered & nobody can misuse their personal information. But the use of insecure access and cybercrimes can instantly amp up the risks of confidential information misuse. That is why website services are important to put a stop to that.
Security Services use a hoard of security systems and tools to prevent data breaches and unauthorized access. This process enables businesses to build credibility among diversified customers. This helps them to retain them and keep the revenue flowing in with no hindrances.
4. Compliance with Regulatory Standards Such As GDPR
GDPR security compliance makes it essential for all business websites to protect the confidential data of the client that they contain. It helps maintain the personal protection of customers, which is done using several techniques.
The three important rules of GDPR are
The business must take the authority of clients to use their personal data.
Anybody has the right to terminate access to the personal information that businesses contain.
Users and customers also have the right to withdraw from making their confidential information public.
Thus, all Website Security Services must comply with these GDPR regulatory standards that ensure information safety.
5. Building A Strong Online Presence
A strong online presence is critical for your business to stand out. It is also important to build a larger client base and improve revenue generation. Thankfully, the right Web Security Service providers can make this possible on time. By improving the room for secure access and data safety, any business can enjoy a stronger online presence with minimal hindrances. Hence, interacting with clients and catering to their needs becomes simpler too.
Popular Types of Website Security Services
1. Web Application Security
Web application security is the stringent process of protecting diverse Website Security Services & applications from a range of cyber-attacks. They can provide protection against sensitive data disclosure, brute force, Man-in-the-middle attacks, SQL Injection, and credential stuffing. They can also safeguard applications against cross-site scripting and cookie poisoning. Generally, they use WAF (Web application firewall) to filter unwanted traffic and block malicious sites.
2. Web App Penetration Testing
In a web application, there can be diverse flaws and threats directly relating to security. These can be eliminated using certain penetration testing tools on time. Web application penetration testing makes this possible. It is used both automatically and manually to detect any type of flaw, security threat, or vulnerability lurking in a web application. This way, it can prevent the web application from weakening and giving in to data breaches.
3. Website Vulnerability Scanning
Vulnerability scanners are tools that help scan vulnerabilities in a device. It assures that the device is free from any type of malicious activity or penetration that may contribute to unauthorized access. Scanning also prevents diverse types of cybercrimes from risking servers and hampering their data security. These scanners can help scan a variety of malicious activities that may hail from cross-site scripting to SQL Injection.
4. Vulnerability Testing
This is a form of software testing method that analyses the amount of risk that there is in a system. It helps map out the strength of your password to understand how secure it is for your data security. Vulnerability testing also helps with access control & evaluates the level of safety of a system. Apart from that, this type of testing may also check whether users are authorized to implement malicious scripts. Finally, it can also chalk out whether the system can be conquered by online attackers and penetrators.
5. Vulnerability Assessment
A vulnerability assessment is a type of evaluation conducted to find out the vulnerability of a system in terms of security. It helps understand the weakness of the system, the threats, and the areas that require mitigation. Application scans, database assessments, and host assessments are some of the important types under this category. Therefore, it acts as the testing process that recognizes security at all levels of a system and helps you understand the defects that need timely fixation.
6. API Security & Testing
Exposed APIs can be a breeding ground for numerous security attacks. API security and testing act as a barrier against this. They identify these APIs that are exposed and prevent your business operations from numerous security attacks. They also validate the APIs and eliminate any vulnerability relating to them. In turn, this helps improve the security system before these APIs become a part of the production environment. When APIs are deemed safe, they can avoid data breaches with minimal hindrances.
7. API Penetration Testing
API or Application Programming Interface penetration testing works as a form of evaluation of the security. This is used to validate an API as secure. The tester applies diverse techniques and tools like the tools and technologies executed by the attackers. This ethical hacking process helps improve the API's strength and prevents it from any form of unauthorized access in the longer run. The test is conducted against numerous malicious activities and cybercrimes. Sensitive data exposure, cross-site scripting, & broken access control are some of them.
How to Choose the Right Security Service for Your Business?
1. Identify Your Security Needs and Assess Potential Risks
Every business has a different security need. Find out yours. Try to understand why you need the security service, what you are expecting them to do, and what potential risks you hope for them to mitigate. In this process, it also becomes important for you to map out the existing data measures & the improvisations you are hoping for the right security service to offer.
Also, remember that there are diverse types of security services to opt for. So, make sure you choose from them after careful analysis and opt for the right website security service provider accordingly.
For example- IT services provide data protection, application security, cloud security, network security, and end-user encryption. So, you need to choose from these options to receive comprehensive security relevant to your business.
2. Evaluate Different Services and Determine Which are Appropriate for Your Business
Every Website Security Service is helpful for your website. But your business does not require protection for all of them, find out the type of website service that is relevant to your business & how the right security service can render protection for it. This will help you save enough time, energy, and money.
3. Consider Factors such as Cost, Features, Scalability, Support
Every security service renders a different price point for the services they offer. That is why it is important to conduct extensive market research to make sure you get your hands on the most nominal one. But remember that when you identify this, you are also looking at the features, scalability, and support that they have to offer.
Make sure you only settle for the Website Security Service provider that is not only providing cheap services. But they must also be able to offer efficient features, good scalability, and comprehensive support under a budget.
4. Make Sure the Security Service is Compliant with Regulatory Standards
Regulatory compliance is a system of protocols that any security service needs to maintain so they can protect sensitive information & confidential data properly. It is crucial to map out the regulatory standards for security services to follow and assuring they comply with them. This helps you to pick one that is not only useful but also renders protection in an ethical manner to your business and its consumers.
5. Evaluate Customer Feedback and Reviews
Customer feedback & reviews can help you to understand the potential of a website security service. It helps you map out their efficiency and how the quantum of customer satisfaction they can offer. With this, you can assure yourself of the quality of services you can expect them to deliver.
Customer reviews also help you understand whether the security service offers a staunch technical team. Since a good technical team is important to offer a helping hand in need and resolve important queries on time, reviews can help learn about them. So, you can know whether it can be fruitful to hire the security services you are looking for.
Conclusion
Website Security Services are not only helpful for your business; they are a compulsion today because of the security they can offer. This can prevent your business from any form of a data breach, protect customers from data misuse and help build trust with them. In turn, your business is likely to grow to new heights and experience better success. Apart from that, your business can also experience better revenue generation and a broader client base.
We have laid out numerous benefits of Security Services above for your reference. Make sure you read them thoroughly to understand why they are your business's need of the hour now.