5 Ways Managed IT Services Can Help Your Business Stay Ahead of the Curve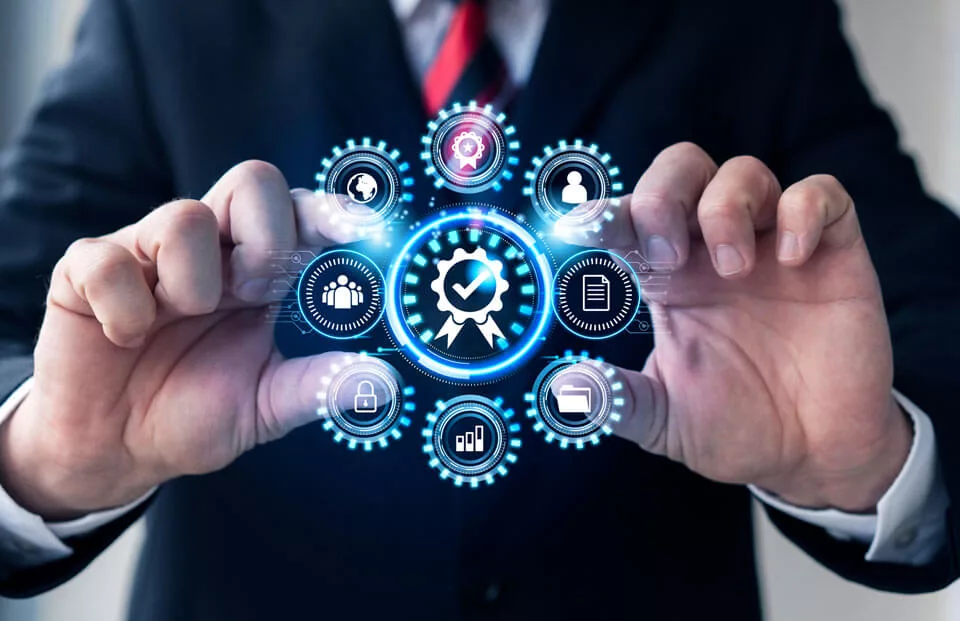 A managed IT infrastructure is critical to run the daily operations of a business seamlessly. With a Managed IT infrastructure, businesses can curb their security threats too & maintain the integrity of their data. For this purpose, it is significant to opt for a hands-down Managed IT Services on time.
A potential Managed IT Service Provider can deliver assistance in numerous ways. They can cut the expenses of your IT staff, provide data security, and help deliver great reliability in terms of the diverse software and applications accessed by them. They may also offer advanced solutions and paramount accessibility for your benefit. If you are wondering how to get your hands on the most potential IT service for your business, read this blog until the end.
An In-depth Analysis of Managed IT Services
Generally, all companies have an in-house IT department which is responsible for several tasks. They undertake the full responsibility for the digital infrastructure maintenance of the company. They may also manage a business's all-inclusive data storage requirements and help administer current customer contracts. But that is not all.
Although an in-house IT team is great at their job, they may not always be affordable for the company. This is because having an in-house IT department requires a hefty investment. On the other hand, outsourcing professionals may be a lot more cost-effective. They are not only experts at what they do but also provide better services for a much nominal budget.
A Managed IT Service Provider can help manage your IT services holistically. They can provide the equipment required as per your IT department's needs and conduct timely monitoring. They may also resolve any IT-related issues and reporting that need to be made on time. This helps make your job easier in an organization, cut down on investing in recruiting the right IT staff, and enjoy paramount productivity without compromising anything.
5 Ways Managed IT Services Can Help Your Business Stand Out
1. Stability and Reliability
Its employees in an organization may or may not be specialists in their respective fields. They may not always have comprehensive knowledge about using the latest tools & technologies. That is why they may only be able to render generic IT services with little to no tailored approach. On the other hand, Managed IT Services can provide a comprehensive foundation for using the right tools and technologies efficiently.
Managed IT services may offer a secure baseline wherein you can implement software, applications, & hardware safely so your business operations can run in a seamless order. They may offer disaster recovery, backup, remote management, administration, & incredible cloud computing services.
These IT professionals may help build a stabilised system that administers all types of concerns relating to troubleshooting. They may also help administer all activity levels and update the system consistently for use. Since in-house IT professionals may not be very well-versed with such tools and may fail at handling the shifting requirements of the organization, managed IT services can be more reliable and stable.
2. Cost Savings
The IT department of an organization is very important. The services they administer and the roles they play are quite complex. This is why hiring skilled IT staff for your business may require you to spend a fortune on them occasionally. Many organizations, especially small-scale businesses, are unable to cover these costs. This is the reason why they end up hiring IT staff members with basic skills.
But the challenge here is that these IT professionals may fail to properly help your business meet its daily objectives. They may also not be able to leverage the shifting technologies & cater to the changing IT requirements either. As a result, your IT department could suffer dramatically. For this purpose, hiring a managed IT service provider can be useful.
With managed IT services, the need to hire & train an extensive IT staff is abolished on time. This also helps cut down on the in-house hiring costs that are obviously higher than what you may have to spend on managed IT service providers. Apart from this, this type of outsourcing also helps save time since you do not have to invest hours in training the IT team. These managed IT service providers already know what they are expected to do.
All-in-all, there is a massive curb on the IT expenses since the software licensing fees, hardware costs, & all other associated expenses are cut down immediately.
3. Data Security
Data security is important for every organization. No business can compromise on that. This is essential to make sure the data of customers is safe, and the confidentiality of their business is not compromised. But due to a lack of specialized knowledge in data security, many in-house IT staff members are unable to provide paramount data security to the organization.
This can put the entire company at massive risk, especially with so many powerful malicious cyber-attacks lurking over the internet today. This stems from the need for a robust IT team that comes in the form of managed IT Services.
Managed IT service providers help store sensitive information in a secure manner using some of the most powerful security services available. For this purpose, you can hire managed cloud security service providers who may help with thorough automation & proactive defense against any malicious third-party penetrators. They may also provide cost-effective solutions to ward off the risks of a data breach. These professionals may also conduct extensive threat analysis, conduct a security audit & empower security assessment under their website security services.
So, it becomes easier than ever to manage strong security for your business and protect the confidential information of diverse customers. This will encourage better customer satisfaction, engagement, and retention that you can leverage to amplify revenue generation.
4. Advanced Solutions
Trends in IT technology are ever-changing and ever-increasing. The more knowledge you have of these tools and the more up to date you are with them, the more likely your business is to gain success faster. But sometimes, investing in these advanced solutions costs your company a fortune. Especially if you are a small-scale business and yet require a robust IT team with advanced solutions, you may be caught in a cuff. This is when managed IT services can come in handy.
The more knowledge you have of these tools and the more up to date you are with them, the more likely your business is to gain success faster. But sometimes, investing in these advanced solutions costs your company a fortune. Especially if you are a small-scale business & yet require a robust IT team with advanced solutions, you may be caught in a cuff. This is when managed IT services can come in handy.
Azure Infrastructure Management refers to the set of tools & services offered by Microsoft Azure to manage and monitor the infrastructure resources deployed on the Azure platform. Azure provides various services to manage infrastructure, including Azure Resource Manager (ARM), Azure Virtual Machines, Azure Virtual Networks, Azure Storage Accounts, & Azure Load Balancers. Using these services users can deploy, manage, and monitor their applications and infrastructure resources on Azure.
5. Accessibility
Accessing data from any location is not an easy task. Especially when you are dealing with IT services, accessibility can play an important role. This can help ensure that your business operations run seamlessly even when you are not around. But unfortunately, most IT professionals who are hired in-house do not have access to such robust solutions where they can access the data from anywhere and everywhere. Thankfully, outsourced IT professionals can help break out of this problem.
With their high data accessibility capabilities, they can access data easily from any given location. They also help collaborate with colleagues in a seamless manner and work remotely without any worries. So, the risk of hindrance in your organization's operations is reduced dramatically. AWS Infrastructure management can elevate this for you. AWS cloud infrastructure management helps consolidate your IT resources & provide them in the most seamless manner from anywhere and everywhere. You can leverage the medium too.
How to opt for the Right Managed IT Services for Your Business?
1. Technical Expertise and Certification
When you hire the right managed IT service provider, focus on the technical specializations they possess. Ask them about their technical skills & find out if they have a certification in the services they offer. Both these factors can help you understand how experienced your managed IT service provider may be in the field they are offering their services. Make sure they have the necessary skills it takes to reach your business goals on time.
2. Market Reputation
The market reputation of your desired managed IT service expert is crucial. When they have a good name in the market, it is obvious they provide good services. On the other hand, a bad market reputation could indicate poor IT services and weak customer satisfaction.
This can help you analyse whether you wish to hire them and be more mindful about counting on their services for business prosperity. In turn, it helps you understand whether these providers can live up to your organizational goals timely.
3. Assistance and Supporting Capabilities
Your business can incur a concern at any time. The concern is not only related to finances. It may also deal with your cyber security threat, downtime issues, and so much more. Hence, your business always needs technical support handy that can mitigate these problems in the blink of an eye. Thankfully, a well-managed IT service provider can help with this as well.
A potential managed IT service provider may have robust assistance and supporting abilities for your organization. They may be backed by sufficient skill sets and knowledge to help your business overcome any type of concern immediately.
4. Specific to Your Needs
A potential managed IT service provider is not only one who has a strong hold on diverse technologies and advanced tools. They must also know how to provide a tailored approach for your business. Find out if the MSP you are hiring for your business can understand the needs of your organization. They must be thorough with what your business lacks and the resources your business can leverage to ramp up its chances of success in the long run.
Remember that a potentially managed IT service provider will take care of all aspects of your business and provide a tailored approach relevant to its needs & preferences. In this process, it will cater to comprehensive technology audits, recognize gaps and improve other aspects of your business too.
5. Request Referrals to Understand Them Better
Referrals come in handy when you want to know more about a specific managed IT service provider. It can help you have a direct idea of what to expect and the goals your MSP can help you crack on time.
That is why try and request as many referrals as possible before you hire a specific MSP for your business purposes. Evaluate their endorsements and testimonials thoroughly to get a gist of their reputation too. This will also render you with greater peace of mind before you invest a fortune in them.
6. Avoid MSPs Who Bill as Per the Set Hours
One of the main reasons why most businesses opt for managed IT services is that they are more cost-effective when compared to their in-house IT department. That is why if your MSP demands billing according to every hour of their service, try and avoid hiring them. This can cost you a fortune. Instead, opt for those professionals who charge a flat fee.
The Bottom Line
Managed IT services are varied. They are spread across the globe. So, you can get your hands on them with minimal hindrance. These top benefits that we have laid out above for you are just the starters for how far managed IT services can go to help your business. It can truly make your brand stand out in the crowd and stay ahead of the curve. But if you want additional details, it is best to hire one and see it for yourself.
Remember to hire a managed IT service provider after careful consideration. Do not forget to evaluate their expertise, experience, and testimonials for a better understanding of their solutions.