How to know if a Website is Legit, Fake, or a Scam?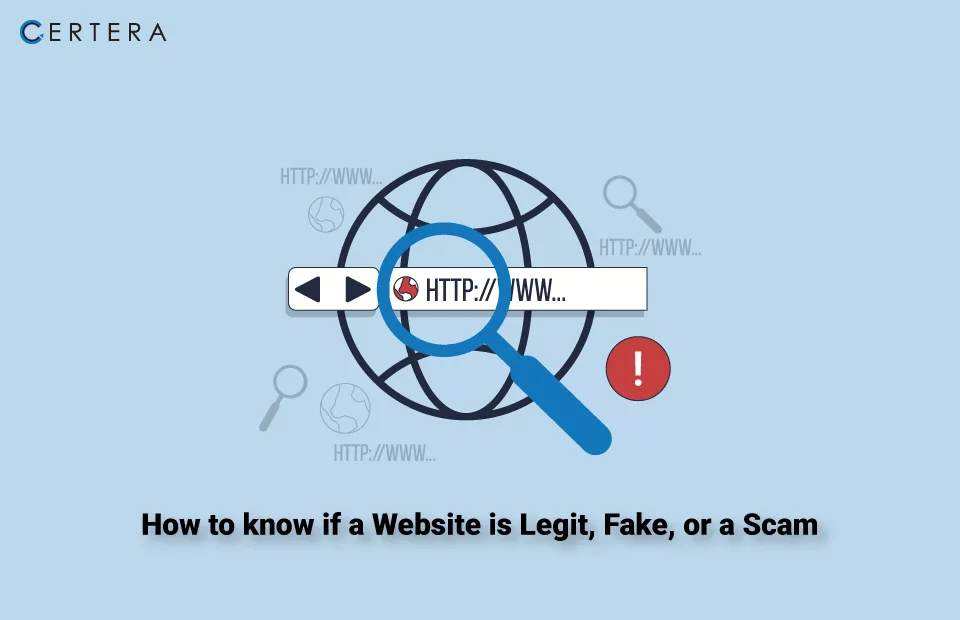 Determine the Authenticity of a Website is to Ascertain whether its Legitimate, Fraudulent, or Scam
In today's digital world, almost everything we do is online, and we frequently come across websites that we are unfamiliar with. While the internet is a wealth of information and tools, it is also a haven for scammers and false websites. If you are not cautious, you can quickly become a victim of these shady websites, which can have major financial and personal implications. As a result, knowing "how to check if a website is legitimate, fraudulent, or a scam" is significant.
Every year, one out of every ten individuals in the United States falls victim to a scam or fraud, with the proliferation of websites, technological advancements, and various types of online fraud.
To protect yourself, here are some tips and tools to help you to determine "how to check if a website is legit or fake".
Meticulously Examine the Domain Names
Before opening a particular link, you should examine the URLs and domain names. Some domain name-based specifics are especially important if you get information from an untrustworthy source, such as a spam email or a social network comment.
Some connections are not what they appear to be. Look at the following link, for example: www.google.com
It appears to be a link to the Google search engine, but if you look at the link destination (URL), you'll notice that it opens the DuckDuckGo search engine instead. You may accomplish this by holding your mouse on the link on a computer.
Moreover, scammers like it when you fail to recognize fake websites. To do this, they create false websites that seem identical to the originals.
Their favorite trick is to generate a similar domain name to fool you.
For example, Yah00.com
They could even modify the domain name so that it goes undiscovered.
For example, Ask.net or Filpkart.org.
So, double-check the URL to ensure you're not being directed to a bogus website.
Verify the Domain Age
Various domain trackers can efficiently answer the question "How to know if a website is legit or not".
It is simple to determine the age of a website domain. Verifying a site's age assures you that it has been in existence for a considerable amount of time. Scam and fraudulent sites generally have a brief existence since they are discovered and removed by actual company site owners.
Visit the "Whois Lookup" domain tracker [https://whois.domaintools.com/] to find out who owns the domain name, where they are located, & how long the website has been active.
It's also simple to paste the URL you want to examine and check the "Dates" in the domain profile data. It specifies how old the domain is and when it was initially registered.
Look for Contact Information
Another technique for identifying whether a link is safe or the website is safe is to see if its contact information works. Check for email addresses, Live chat, physical addresses, contacts, or customer service numbers.
The fraudsters do not want you to contact them. Consequently, they do not include their contact information. Proceed with caution if you aren't seeing options for reaching them.
Verify the Privacy Policy of the Website
A legitimate website should include a privacy policy outlining the information it gathers, how it will be used, and with whom it will be shared. If the privacy policy is ambiguous or lacks critical information, this may indicate a fraudulent website.
You provide your financial information to e-commerce websites, but you have no idea where your data is.
Data privacy laws and regulations allow you to learn how the website collects, uses, secures, and maintains your data. These policies and procedures act as guidelines for both users and the firm.
These privacy rules are available as a link or a full Word document. Before giving any critical information to the website, thoroughly read it. Most websites have a web page or a link to a document that contains comprehensive data. Look for detailed information and carefully examine this information before submitting any information or making any online transactions.
Check For SSL Certificate
Checking for an SSL certificate is one approach to identifying a fake website. An SSL certificate is a security protocol that encrypts data transit between a website and a user's browser. It is a security mechanism that maintains the website's integrity and validity, making it more difficult for hackers to steal important information.
A secure connection should be shown by a padlock icon next to the URL of a website with an SSL certificate. Users can also look for "HTTPS" rather than "HTTP" in the URL, which indicates a secure connection. It protects your data against third-party eavesdroppings, such as man-in-the-middle attacks.
Consumers should be aware that not all SSL certificates are the same. According to the type of SSL certificate, there are several validation phases.
Choose the certificate that best meets your requirements. At CerteraSSL, we have SSL Certificates for 3 different brands Certera, Comodo, and Sectigo. So, here you can suggest that users like "Certera/Comodo are the best CA to get the SSL Certificate at an affordable range. CerteraSSL provides a variety of SSL certificates for your business. You receive the best SSL certificates for all types and sizes of websites with the broadest number of alternatives from globally reputable certificate authorities.
SSL certificates provide users with the assurance that their data is secure. It is, therefore, important to check a website's SSL certificate before providing any sensitive information. Customers should also be cautious of websites that claim to have an SSL certificate but displays alerts suggesting that the connection is not secure.
Know the difference between HTTP and HTTPS.
Search for Reviews and References Online
Obtain a preview with a review.
A review will inform you precisely what you're getting into. You'll either discover negative feedback or absolute silence if it's a fake website.
However, trust your instincts. While reading reviews is a wonderful technique to identify bogus websites, fraudsters may also submit false reviews!
Usually, brands continue to provide incredible deals and sales to showcase their newly introduced items or a stock clearance sale. However, to spot a fraudulent website, watch for any incredible deals. This might turn out to be a trap.
If you come across such a website, it is best to leave immediately. If anything sounds too good to be true, it typically isn't.
Examine Consumer Feedback and Social Media Presence.
Search for the reviews that appear on the website. Repeating the same reviews for various items and services might indicate a bot's operation. You may also look for real reviews about the company and website to see if any red flags indicate the site is a fraud. Furthermore, since nearly all companies have a social media following, a brand-new Facebook page with few followers could indicate a fraudulent website.
Perform a Virus Scan
Some websites may have an occasional ad or pop-up, but excessive ad stuff that interrupts your review of the site or forces you to click on links to be sent to other websites may suggest that which is an indicator of a false id or it is a fraudulent or insecure site.
There are several free resources available for scanning for viruses, phishing, malware, and recognized scam sites, such as
PhishTank
VirusTotal
FTC Scam Alerts
What should you do if you become a victim of a fraudulent website?
If you have been deceived by a fake website, take the following measures right away:
First and foremost, all financial transactions must be suspended immediately.
Alter your passwords.
Set up multiple-factor authentication on all your accounts.
As evidence, take screenshots of the webpage.
Report the scam to your bank or credit card company.
If the user is skeptical, like "Is this website legit" while browsing the site, change any potentially compromised passwords.
Report the scam websites to the appropriate authorities, such as your local Cybercrime Cell.
Always take the assistance of a website legit checkers or trackers.
Inform family and friends to avoid falling victim to the same fraud.
Maintain vigilance to prevent being deceived in the future.
Finally, it is essential to be vigilant while visiting new websites and to use these methods to assess whether a website is legitimate, fraudulent, or a scam. By doing due diligence, you can secure yourself from internet fraud and avoid financial or personal harm.