What happens when your SSL Certificate Expires?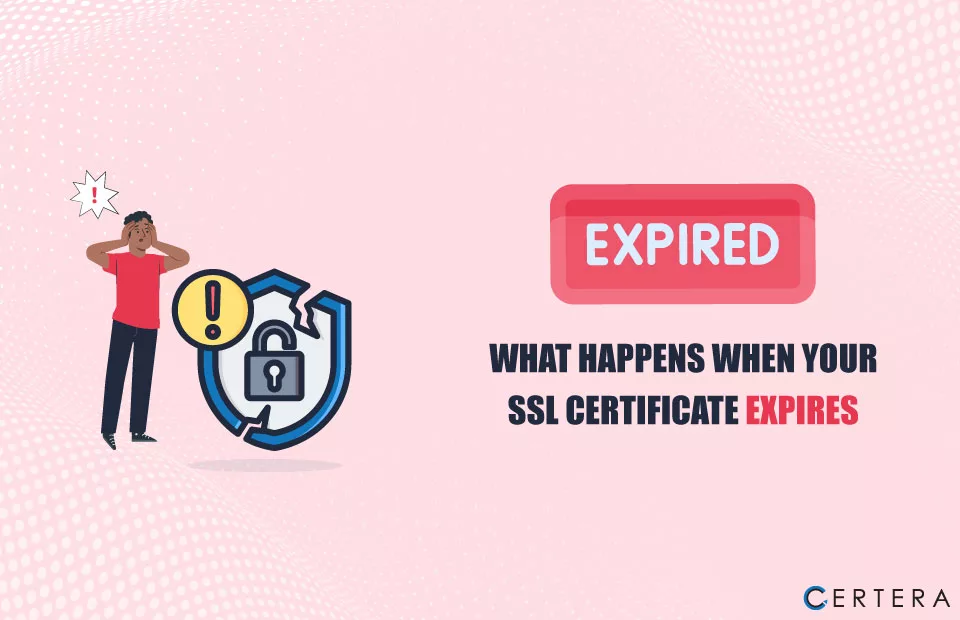 An SSL certificate is a digital certificate that authenticates a website's identity and enables an encrypted connection. SSL is an abbreviation for Secure Sockets Layer, a security protocol that establishes an encrypted connection between a web server and a web browser. This improves the value of their reputation and enhances sales. The users' browser communicates with the website server and securely sends confidential information (which might include financial account numbers, credentials, etc,) without worrying about the integrity and confidentiality of their data. However, what exactly happens if an SSL license expires?
The answer is "major network disruptions that lead to weakening network security."
This article outlines what happens when your SSL certificate expires.
Let's understand what exactly "an SSL certificate Expiry" is.
The SSL certificate verifies a website's owner's identification and creates safe and protected communication to the server for its clients. It ensures their confidentiality, security, and privacy.
However, SSL certificates are not valid permanently. An SSL license is also like a driver's license or visa, and it has an expiry date. The server's identification is no longer recognized after the expiration date has passed.
Why do Digital certificates/SSL Certificate Expire?
A Certificate Authority (CA), a trusted third-party organization (Comodo, Sectigo, Certera, DigiCert), issues SSL certificates, which have a predefined expiration date typically ranging from 1 to 2 years from the date of issuance. This expiration date is set by the CA.
SSL credentials have expiry dates hard-coded into them. They expire because the information used to generate the SSL certificate is no longer reliable and must be updated. For example, the domain owner to whom the certificate was formerly issued may have changed, the organization's permissions to utilize the website's domain, or the organization itself may no longer exist.
When SSL certificates expire, browsers will notify you about your website. Usually, these digital certifications expire to maintain your website security up to date. By forcing you to reissue your SSL certificate periodically, such that you will constantly have the latest TLS versions and ciphers.
What happens when SSL Certificate Expired?
Here the query is, "What if you find your SSL certificate has expired?". The fastest way to fix it is, to buy a new one immediately. you will get a message on your website like, "Your connection is not private,". If a customer continues to access your website, the messages will not be protected (not encrypted). Because it will be unencrypted (plain text), anyone will view it. Therefore, update your SSL certificate before it expires.
You cannot communicate in a confidential, secure encrypted HTTPS communication after an SSL certificate expires. All information will be transferred in an unencrypted manner, making your (or your client's) data vulnerable to any network intruder or malicious user.
This is why it is critical to understand the expiration time of each SSL certificate used by your organization.
When an SSL certificate expires, website users are likely to get the following warning messages:
What are the risks of an Expired SSL Certificate?
Security Risks
If your SSL certificate expires, your website visitors may not trust your site or feel secure enough to disclose confidential information. If your site is not secure, fraudsters can try to access confidential data or insert malware and other viruses.
Risks to the company's Reputation
When users see an expired SSL certificate warning, it may damage your company's reputation. It shows that the website is insecure and unreliable as well as users might steer clear of such sites, which leads to lower sales, revenue, and user confidence.
Browser Warnings
Since modern web browsers cannot handle expired certificates, customers may see the cautions displayed on the sites such as "Secure connection failed" or "connection is not private" on their browser, consequently customers ignoring or leaving your site instantly, this can lead to negatively affecting your web user participation.
Downtime and Traffic Loss
An expired SSL certificate may cause a website to be unavailable until a replacement is implemented, which leads to a loss of productive time at work and unnecessary business disruption. Furthermore, visitors are more likely to leave your website and go to a competitor who appears to receive them with welcoming arms by having a legitimate SSL certificate.
Damaging Impact on SEO:
The expiration of an SSL Certificate can have a detrimental effect on a website's search engine rankings. When search engines like Google notice that a website is not safe, they may lower its ranking in search results, reducing its exposure and traffic.
That's why users should understand SSL is a must have security measure for website's SEO.
How to verify SSL certificate expiration?
It is essential to keep track of certificate validity periods to prevent such serious circumstances in your organization.
Perform the following steps to check the SSL Expiration Date in Chrome and Firefox
Click on the Padlock next to the HTTPS URL in the browser window.
In Mozilla Firefox, Click on Connection Secure > More Information > View Certificate. You can see the Expiration in new Window.
In Chrome, Click on Padlock > Connection is Secure > Certificate is Valid. You can see the Certificate expiration time in the new Window.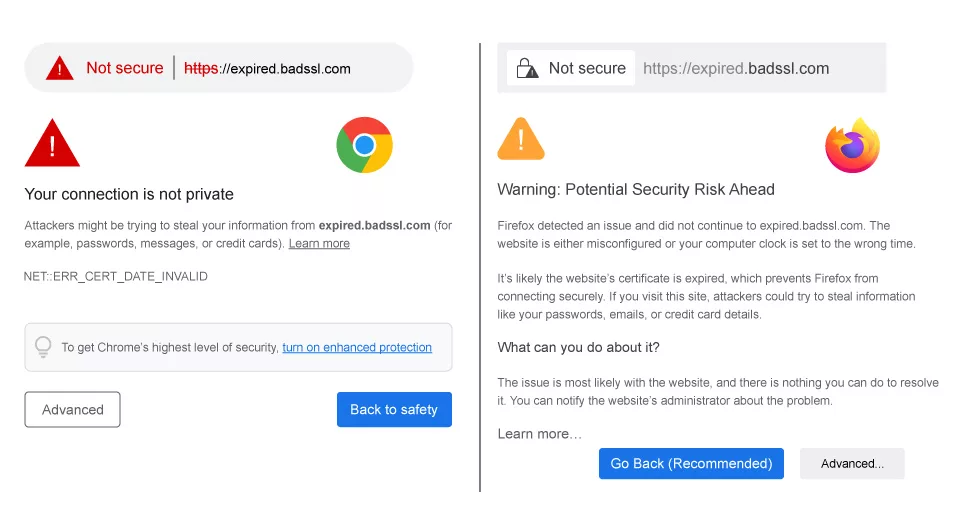 How to fix the expired SSL certificate?
The solution is to associate with a Certificate Authority or SSL Certificate Provider that can notify you when a license is about to expire. Some Certificate authority (CA) inform their clients 30-60 days before their certificates are due to expire. In addition, frequent renewal notifications are sent to the user's registration email address 30 days, 15 days, 7 days, and 1 day before the expiration date.
If your SSL certificate has already expired, you can carry out the following steps:
Choose the certificate that best meets your requirements.
Certera, Comodo and Sectigo considered as the most trusted Certificate Authorities. Pick the most suitable SSL for your website.
Certera SSL Certificate is the affordable SSL comes with 256-bit strong encryption and unlimited server license.
Choose the number of years you wish to purchase SSL.
If you are purchasing a new certificate, click "Add to Cart."
Fill out the purchase form with information about your website and then select "Continue."
Wait for your confirmation.
Install the new SSL certificate: Once you have the new SSL certificate, you must install it on your website. The procedure for installing an SSL certificate differs based on the server you are using.
Check the website to ensure that the outdated security certificates have been replaced and the site is now secure and protected.
Finally, try your website to ensure that everything is in the correct working order. To ensure that your website is available and safe for all visitors, test it on various devices and browsers.
Can you renew an Expired SSL certificate?
No, you cannot renew an expired SSL certificate. When your SSL certificate expires, it is no longer valid; you cannot "extend" it. You must instead substitute it with an entirely new SSL certificate, also known as a "renewal" SSL certificate. SSL certificates must be revised and updated at least every two years for two reasons:
A new SSL certificate guarantees that the encryption meets the most recent security standards.
If a key is constantly changed, hackers find it more difficult to breach it.
So, when an SSL certificate expires, it is no longer considered reliable and must be replaced with a new one. To prevent any disruption in website security, it is suggested that SSL certificates be renewed at least 30 days before their expiry date.
Does an expired SSL Certificate still encrypt?
No, an expired SSL certificate is not capable of encrypting data. When an SSL certificate expires, the information sent between the web server and the client no longer remains confidential and can be accessed by an attacker. To ensure the security and confidentiality of online communication, SSL certificates must be renewed before they expire.
Conclusion
In the world of online business, SSL or Secure Sockets Layer is an important factor in ensuring the confidentiality and security of your website users. SSL certificates assist to encrypt sensitive information such as login credentials, personal data, and payment details, preventing hackers from snooping and intercepting user data.

However, many website owners often overlook the renewal of their SSL certificates, which can lead to a multitude of problems such as website errors, search engine rankings, security breaches, customer trust, and confidence, etc.
So, it is crucial to remain vigilant and renew your SSL certificates before they expire, Such that you can ensure your website is safe, secure, protected, and trusted.