What is SiteLock? Role of SiteLock in Website Security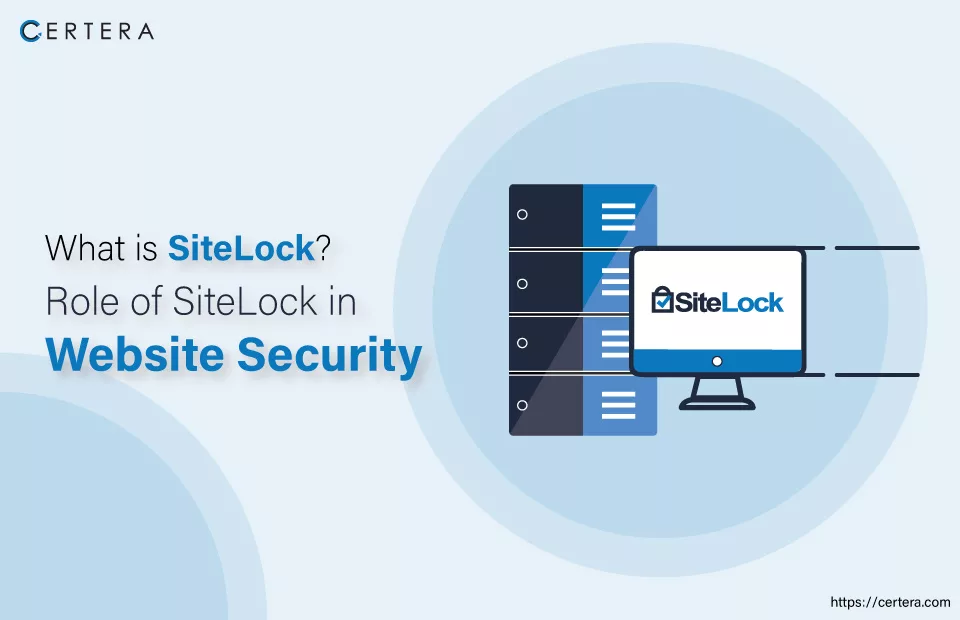 A website is a great asset since it allows you to differentiate yourself from your competition, attract customers, and earn money.
Moreover, if something is precious, it must be protected and secured.
We're here to assist you through the security challenges your website may encounter so you're equipped to handle them when they come. In this article, we'll discuss website security risks and how Site Lock Security can assist with keeping your website secure.
Impact of Cyberattacks on Websites
The severity of cyberattacks has been steadily increasing over the past decade.
In Global Incident Report Analysis, a few reputed organizations noticed a triple-digit increase in international cyberattacks during the first half of 2021. Unfortunately, small, and medium-sized businesses are also targets of cyberattacks.
Major organizations are not the only targets of cyberattacks. Numerous websites are frequently the targets of various cyberattacks because they are simple to execute. Large companies spend a lot of money on cyber security. They are equipped with the personnel and knowledge necessary to address these issues. Small firms, nevertheless, cannot afford these things.
In recent years, Cybercriminals have been primarily focusing on websites. Consequently, website security is becoming a top priority for all website owners globally. This is basically due to increased public awareness of cybersecurity, data privacy, and data security.

Customers don't want to make purchases from unsecured websites. When a web browser issues a warning about your website, you risk losing the customer forever.
Another reason for encouraging website owners to enhance website security is the unusual increase in cyberattacks over the previous decade, as stated above.
In the early days, cybersecurity issues were mainly confined to top-rated websites with thousands of daily visitors or websites managed by significant organizations. Every website is a target, though, as the recent monetization of information has driven hackers to attack every website. To protect your website, you must take every reasonable measure.
What Exactly is SiteLock Security?
SiteLock is a cloud-based website security tool for small businesses. It is an advanced auto-detection technology for internet security risks that assists in preventing malware injections and other potential attacks.
SiteLock ensures and secures your website entirely in exchange for a nominal monthly charge. SiteLock was developed to meet all a website's security requirements.
SiteLock can protect your business in addition to your website. The hazards to your online company are more significant than ever. Hackers steal your customer data and reroute your traffic using malware, SQL injection, cross-site scripting, and other advanced tactics, damaging your website's reputation in the process.
SiteLock will keep your investment secure. Daily security scanning finds vulnerabilities and defends your website from attackers. With 70% of website visitors seeking a valid third-party verification before sharing personal information, the SiteLock Trust Seal boosts customer trust and has been shown.
The three fundamental steps in the SiteLock functioning concept are locating, fixing, and preventing. This is possible because SiteLock includes a wide variety of tools.
In addition to many other things, SiteLock can do malware scans, FTP scans, scans of all the apps on your website, searches for SQL injections, searches for SXX (Cross-Site Scripting), configure web application firewalls, and more.
SiteLock's 360-degree Scanning
It carries out a Deep 360 Scan that includes:
Reputation Management/Monitoring:
Guarantees that connection with visitors and customers is not disrupted and that the website's reputation is maintained.
Blocklist of Malware:
Ensures that search engines and browsers do not blocklist the site by monitoring proprietary malware lists and search engine blocklists.
Spam Blocklist:
SiteLock compares email addresses, domains, and email servers to lists used by well-known email utilities to identify spam and ensure that emails are sent to customers' inboxes rather than their spam folders.
Protection of Customer Data (SQL & XSS):
To ensure the site's present and future visitor/customer data is secure, execute backward-looking and forward-looking checks.
Software Protection:
Confirms that any third-party software deployed on your website is secure and up to date.
Business Verification:
Guarantees the organization's legitimacy and gives a certification sign that can be displayed on the website to inform visitors that the company or website is genuine.
SSL Verification:
Assures visitors to your website won't encounter a certificate notification/warning message or issues.
Network Security:
Verifies the network's security by ensuring there is no way for hackers to access the server.
Drive-by-Downloads:
Analyses the website to ensure visitors are not infected with viruses frequently uploaded on websites by cybercriminals.
Domain Registering:
Verifies that the website's domain is under the owner's control.
Phone Verification:
This process ensures that clients can reach a phone number to report their concerns or request more services or products.
Postal Address:
Verifies that the website's owner can receive and reply to postal mail, including payments from or queries from customers.
The Benefits of SiteLock Security for your Website
Search Engine Optimization
SEO, often known as Search Engine Optimization, is one of the fundamental components of a website that is effective. Better SEO results will boost your website's organic traffic since they will appear higher in search engine rankings.
According to Google, the industry's largest corporation, secure websites will be given priority. Google stated that when every other factor is equal, your website's security will determine how high it is featured in search results.
Google assesses a website's security by analyzing its "vulnerability points," as they call them. These are places in a website's code where malicious code can be introduced. A website is considered more secure if it contains fewer points of vulnerability.
SiteLock provides specialized technologies that search for malware insertion places such as these. Due to this, SiteLock could offer you an excellent SEO boost.
Greater Customer Traffic
Customers are more likely to find your website since site security benefits your SEO and search rankings. Your site security can help you retain customers when they come.
Visitors to your site won't be prevented from accessing it by malicious bots, site takeover attacks, or defacements that might damage your brand due to DDoS protection, website scanning, and malware elimination.
Customers are more inclined to remain and purchase if your URL has the SSL padlock icon since they know that the information, they provide is secure.
17% of consumers report giving up on online purchases because they didn't trust the website with their credit card information. Therefore, the secret to making sales is gaining that trust.
Continuous 360-Degree Scanning
One of the most significant benefits of SiteLock is that it regularly checks your website using several different methods. The primary purpose of this is to look for malware insertion.
Malware injection is simply a hacking technique where a harmful piece of code is put into your website's network. These codes are intended to steal information, lock you out, and do various other things. Customer information, company documents, and—worst of all—information on website financial transactions are typically among the data taken.
To check for malware insertion, SiteLock combines many firewall detection techniques. Additionally, it provides methods for avoiding this virus. Antivirus software developed for commercial use is frequently utilized to scan your website.
Increased Conversions
The best methods for site security to increase conversions for your website are listed below:
If your website loads faster and your visitors experience secure, they are more likely to browse, sign up for your promotions, contact you, add items to their carts, and continue to the checkout.
When your website displays PCI DSS compliance, you can show clients that you use the industry standard to protect their payment information from fraudsters. Because of this, customers might be more secure using their cards on your website.
Customers are more likely to return and do business with you again if they delight in a secure, satisfying experience on your website. Customers are more inclined to recommend your website to friends, family, and co-workers.
Cost-effective as well as Feasible
SiteLock offers several crucial security measures, so you don't need to purchase them separately to secure your website from malware or viruses. Additionally, it assists in significant financial savings, making it a cost-effective security option for small enterprises.
Additionally, installing or setting up SiteLock on your website doesn't require you to be a technical expert because the installation process is simple and user-friendly.
Wrap up!
If you want your website to succeed, website security is essential. The probabilities are heavily against those that neglect website security, from SEO to customer confidence.
It may be challenging, time-consuming, and expensive to determine and configure the proper security system for your organization. SiteLock is a great option for small and medium-sized enterprises since it provides complete verification and malware elimination security at an affordable price. In addition to protecting your website, it improves client trust, SEO performance, and business legitimacy.
Purchasing a web hosting package from a business that offers SiteLock assistance on a native basis is the best plan of action.
FAQ's
What is SiteLock Used for?
A cloud-based security solution called SiteLock checks your website for malware and security holes. SiteLock can resolve any issues or security hazards in your online space besides identifying attackers.
Do I Require SiteLock?
Your website is secured with SiteLock Security against spam, hackers, malware, and viruses. It accomplishes this by checking your website for these harmful factors, finding any malware, and immediately eliminating it. It also notifies you when things seem like they need to be corrected.
What Difference is there between SSL and SiteLock?
SiteLock secures your website against viruses and hackers. At the same time, SSL allows HTTPS, shows the padlock next to your URL (which indicates trustworthiness), encrypts the server-browser connection, and improves your website's ranking on Google Search results.
What Happens if SiteLock Identifies a Vulnerability?
There will be no trouble notifications for site visitors. The SiteLock seal will keep showing the time of the most recent successful website scan. SiteLock will take down the seal and replace it with a one-pixel transparent picture after a few days if the site owner doesn't fix the issue. SiteLock will never show users any sign that a website has failed a scan.
In What way is SiteLock Billed?
The one-year durations of the subscription service SiteLock are offered and are invoiced in advance.