What is a Wildcard SSL Certificate, and How Does It Protect Subdomains?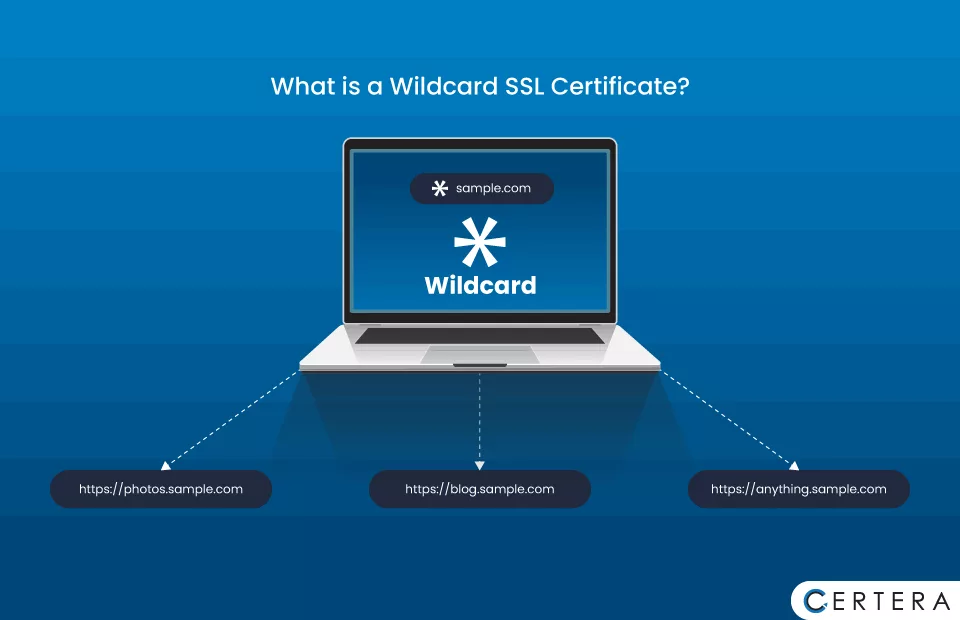 Hosting many subdomains for your website might benefit your business, However, it can also be a difficult process to handle. Securing these sub-domains with multiple SSL/TLS certificates further complicates the process, but a wildcard certificate is an easy solution.
The term "wildcard" is frequently used to describe a sign or letter that may be referred to as a sequence of characters or a space. The character used in wildcard certificates is an asterisk (*) inserted before your domain name.
A wildcard certificate from CerteraSSL.com could save you both money and time. Let's take a deeper look at what a wildcard certificate is and when it can be a good fit for your requirements.
What is a wildcard SSL certificate?
A Wildcard is a digital security certificate encrypts data transmitted across a user's browser and a website server. It enables secure communication using Secure Sockets Layer (SSL) or Transport Layer Security (TLS) technology. A single wildcard certificate can protect an unlimited number of subdomains of a domain name.
How Does Wildcard SSL Certificate Protect Subdomains?
A wildcard SSL certificate comprises one root domain and one wildcard character. (*). The wildcard character represents any subdomain of the root domain.
Wildcard certificates secure and protect the common name and any subdomains to the level you select when submitting your request. Just insert an asterisk (*) to the left side of the usual name in the subdomain area.
When a user submits a request to a wildcard-secured subdomain, the certificate creates a unique encrypted key that is transmitted to the user's browser. The browser then decrypts the key and connects it to the subdomain server securely, ensuring that no third party may intercept or tamper with the user's data.
Examples
When you request your certificate for *.sample.com, you will be able to secure:
sample.com
www.sample.com
photos.sample.com
blog.sample.com
anything.sample.com
Wildcard certificates encrypt websites like normal SSL certificates do, and the Certificate Authority validate the request using the same procedures. However, some Web servers might ask for a distinct IP address for every sub-domain on the Wildcard certificate.
The Benefits of Wildcard SSL Certificate
Saves Money
Simplified SSL Management
Improves Website Security & Integrity
Covers Multiple Domains
Saves Money
Unlike obtaining multiple certificates for each subdomain, a wildcard SSL certificate may protect an unlimited number of subdomains with just a single certificate.
Simplifies Management
Management is simpler and more effective with a single wildcard SSL instead of managing multiple certificates for each sub-domain.
Improves security and Integrity
A wildcard SSL encrypts web data between a user's browser and a website server, ensuring data security and protection against eavesdropping or tampering.
Covers Unlimited Sub-Domains
A wildcard SSL certificate covers your base domain and its unlimited number of subdomains. Hence, you don't need to buy certificates for www, email, store, etc. A single certificate works for all.
What Are the Types of Wildcard SSL Certificates?
It comes up with two types as
Single Domain Wildcard SSL
Multi-Domain Wildcard SSL
Single Domain Wildcard SSL Certificate
A single certificate covers the main domain and its subdomains. For example, if you have a certificate for *.sample.com, it will cover www.sample.com, blog.sample.com, and shop.sample.com.
Multi-Domain Wildcard SSL Certificate
This certificate covers multiple domains (up to 250) and their corresponding subdomains with a single certificate. For example, a security certificate for *.sample.com and *.sample.net will cover www.sample.com, blog.sample.com, shop.sample.net, and blog.sample.net.
What Are the Limitations and Risks of Wildcard SSL Certificates?
Advanced configuration is required: Wildcard SSL certificates require advanced configuration, which may be difficult for some users.
Key compromise: If intruders hack the certificate's private key, they can impersonate any domain covered by that wildcard certificate. Attackers use certificates to host fraudulent websites for phishing attacks.
Hard to track: The simplicity of wildcard certificates might be misleading. While simple to distribute, maintaining track of a single wildcard SSL across dozens, if not hundreds, of servers may be challenging, particularly if it expires simultaneously on all sites.
Unavailability at validation levels: They are not available at all levels of validation. Wildcards are available during domain validation (DV) and organization validation (OV), but not during extended validation. (EV). Some organizations opt for EV SSL certificates over OV and DV SSL certificates because EV certificates give higher security and trust. A standard wildcard SSL will not work for such companies. They may still secure their subdomains using a multi-domain EV SSL certificate.
When Do You Need a Wildcard Certificate?
Organizations and companies, such as online retailers, universities, and social media sites, frequently use wildcard certificates to secure multiple subdomains.
If you have a website with multiple subdomains that require SSL/TLS encryption, employing a single wildcard certificate may assist you in managing your certificates more easily and reduce costs. A standard SSL/TLS certificate will be sufficient if you merely have one or two subdomains.
How Much Does Wildcard SSL Certificate Cost?
Usually, wildcard SSL certificates can cost ranging from $40 to $1,000 per year, based on the certificate provider and options included. For example, Certera is one of the renowned providers. Its cheapest choice, Certera Multi-Domain Wildcard SSL starts at $34 per year, and its highest expensive option, Certera Wildcard SSL Certificate at $29 for 5 years (you can save up to 60%) includes strong and secure encryption, 24X7 expert support, browser and smartphone compatibility, 30 days money-back guarantee, secure padlock & HTTPS URLs, unlimited sub-domains security and server licensing.
Certera Wildcard SSL Certificate is less expensive than other validation types of SSL certificates; it makes an excellent choice for people on a minimal budget who need to secure multiple subdomains. Additionally, it follows relevant CA/B Forum requirements, ensuring that communication between the server and the client is secure and encrypted and any suspicious third party can not intercept it.
Hence, the Certera wildcard SSL is ideal for a robust yet cost-effective solution to protect your website and its unlimited sub-domains.
How to Buy Wildcard SSL Certificate?
Perform these steps to buy a Wildcard SSL Certificate for your website & all your sub-domains.
1. Go to CerteraSSL > Check for Certera Wildcard SSL Certificate.

2. Select a duration for your wildcard certificate order, then click the Add to Cart button.
3. Validity or plan includes 1 Year @ $34.99 /year to 5 Years @ $27.99 /year.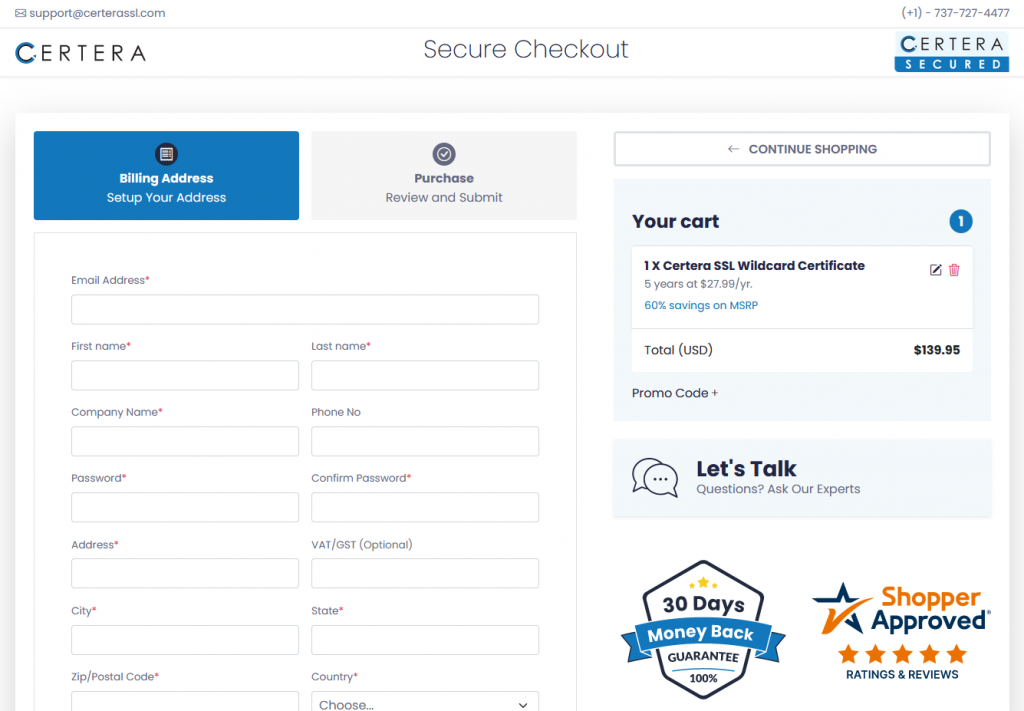 4. Check out once you've finished your purchase.
You may adjust the number of certificates in your cart or remove them. You will find the "Want Us to Install?" button beside the quantity button. Based on your requirement, you can click on Yes or No. That's our SSL Installation Service, where our dedicated team of SSL experts will work for you to install your certificate.
Validation Requirements to Obtain Wildcard Certificate
As we have discussed above, a Wildcard SSL can come up with both domain validation and organization validation; the issuance process is different for both.
Validation for DV Wildcard SSL
To issue a Wildcard Certificate with domain validation, you only need to validate your domain ownership. The Certificate Authority will only check whether you have enough rights to maintain the domain name.
The following three options are available to validate a domain-validated SSL Certificate.

Upload the Auth File
Domain Registrar's information verification
Email Based Verification
Validation for OV Wildcard SSL
To issue a Wildcard SSL Certificate, these are the conditions the issuer needs to follow.
legitimate Domain Name: The issuer must use a legitimate domain name to issue a Wildcard Certificate.
Domain Control Validation (DCV): The verification process ensures that the applicant has the authority to apply for a certificate for the domain name. This validation can be accomplished using email, HTTP, or DNS verification.
Requirements for Organization Validation (OV) or Extended Validation (EV): If you want to get an OV or EV wildcard certificate, you must go through a more difficult validation procedure involving validating the organization and signing legal documents papers to prove your identification.
Proof of Ownership: The certificate authority may need additional evidence of site ownership. Hence, the issuer needs to provide registrations and other documents required by the CA.
Agree on the Certificate Authority's terms and policies: Before receiving the wildcard certificate, the applicant must accept the Certificate Authority's policy agreement, Terms of Service, or Subscriber Agreement.
After successfully accomplishing the above conditions and requirements, the CA will issue the SSL.
What Happened When Wildcard SSL Certificate Expires?
Like other digital certificates, wildcard SSL certificates have an expiration date. When a certificate expires, the admin should renew and update it immediately. If the issue misses renewing the certificate, the website(s) it protects will no longer be accessible over HTTPS, and visitors will get an error warning, and the certificate will no longer be secure for domains or subdomains covered by it.
Hence, any traffic between a user's browser and the website is not encrypted and is therefore open to future hacking attempts. Visitors visiting the website may see warning messages or encounter access issues. To ensure the website's continuous security and user data safety, SSL certificates must be renewed before they expire.
How to Renew Wildcard SSL Certificate?
To renew a wildcard certificate, follow these steps:
Check the current SSL certificate and note when it will expire.
Purchase a new wildcard SSL certificate from your SSL provider or visit CerteraSSL.com.
Use the same domain name and wildcard notation as your present certificate to generate a new CSR (Certificate Signing Request) from your server.
Submit the CSR to your SSL provider and follow the verification steps.
The new wildcard SSL certificate will be issued after the Certificate Authority validates your domain ownership.
Replace the old certificate with the new one to install the new certificate on your server.
Check that the new certificate is operating properly on your website.
Any server or application configurations that use the previous certificate should be updated.
Set up a recurring reminder for the next SSL certificate renewal.
FAQs on Wildcard SSL Certificates
How do I install a Wildcard SSL Certificate?
You can perform the following process to install the SSL Certificate on your web server.
Click on the wildcard certificate product page
Create CSR: Enter your domain as *.mydomain.com for a wildcard certificate.
Validate the Certificate Completely: Once issued, the certificate will be sent to you by the CA.
Install it on the server: Most server configurations (for example, cPanel) has a simple wizard for installing the SSL certificate.
Perform our SSL installation Guide to install the Wildcard SSL on your web server.
Is getting a Wildcard SSL Certificate more expensive than an ordinary one?
It depends on the number of sub-domains you wish to secure. If you have limited sub-domains (up to 5), you can purchase an SSL certificate individually, saving your money. But if you wish to secure hundreds of sub-domains, buying SSL individually can be a costly deal; you must go for a Wildcard SSL certificate.
Why would you deploy a wildcard certificate?
If you manage several subdomains, utilizing a 'wildcard' SSL certificate is usually best. It will allow you to protect all your subdomains with a single certificate rather than purchasing and installing several different ones.
What are the advantages of purchasing wildcard certificates for Multiple years?
Here is the main advantage of using Wildcard SSL on your website.
Reduction in Expenses
Certificate management is simple
Flexibility with Multiple Servers
Strong 256-bit Encryption
2048-Bit Signature Strength
Issuance in up to 3 Days
Are there any limitations when using a Wildcard SSL Certificate?
Here are some examples of how hackers might abuse wildcard certificates:
Compromised Web Server: If you use a wildcard certificate on public-facing web servers, fraudsters may use that web server to host malicious sites for phishing operations.
The Private Key will be Stolen: If fraudsters have access to the private key of a wildcard certificate, they may be able to impersonate any domain covered by the wildcard certificate.
Certificate forgery: If fraudsters mislead a CA into issuing a wildcard certificate for a bogus firm, they can utilize those wildcard certificates to set up subdomains and phishing sites.
Do all browsers support wildcard SSL certificates?
All major online browsers, including Chrome, Firefox, Safari, Microsoft Edge, and Internet Explorer, support wildcard SSL certificates. However, the most up-to-date information on browser compatibility should be retrieved from your SSL provider.
What is the distinction between a SAN and a Wildcard certificate?
A Subject Alternative Name (SAN) certificate can handle multiple domains and numerous hostnames associated with domains. Because they are not confined to a single domain, SANS certificates are more adaptable than Wildcard certificates.
Combining the features of both allows you to protect a far larger variety of domains and utilize them on an unlimited number of sub-domains.
Can I use the same IP address for all subdomains?
Yes. Because the same certificate will be used to protect all subdomains linked with a domain name, one IP address can be shared by all subdomains. By definition, SSL/TLS is an IP-based protocol; however, in this scenario, when all subdomain names will use the same certificate, a Wildcard certificate can be configured to work with name-based virtual hosts rather than IP-based virtual hosts.
Who is the most affordable wildcard SSL provider?
Certera Wildcard SSL Certificate
Comodo PositiveSSL Wildcard Certificate
Comodo Essential SSL Wildcard Certificate
Sectigo Wildcard SSL Certificate
Is a wildcard certificate available for free?
No, a Wildcard SSL Certificate is not available for free. You need to pay to purchase one. Still, if you got any problem or issue, you can ask for your money back within 30 days.
What is a good alternative for a wildcard SSL certificate?
Subject Alternative Name (SAN) certificate or a Multi-Domain SSL Certificate.
An alternate subject name (SAN) certificate is the most comparable option to a wildcard certificate.
How do I generate a CSR for a wildcard domain?
A CSR is an encoded file that allows you to provide Certificate Authority with your public key and certain information about your company or organization in a standardized manner. With one essential difference: the asterisk (*), producing a CSR for a Wildcard SSL certificate is identical to generating a CSR for any other SSL certificate.
Is it possible to use a Wildcard SSL Certificate on multiple servers?
Yes, you can use a Wildcard SSL Certificate on several servers. Most of the Certificate Authority offers multiple server compatibility. Hence, you can install it on any server.
Is there a wildcard SSL certificate limit?
No, it comes with unlimited sub-domain security to the first level. A wildcard SSL certificate covers an UNLIMITED number of subdomains.
How long does a wildcard SSL certificate take to be issued?
The duration to issue a wildcard SSL certificate depends on the SSL provider and the type of validation you have opted for during your order.
Domain Validated Wildcard SSL takes a few minutes to issue.
Organization Validated Wildcard SSL takes up to 3 days for issuance.
What is the Difference Between Wildcard SSL and Multi-Domain SSL
A Wildcard SSL Certificate is mainly used to secure unlimited subdomains.
A Multi-Domain SSL Certificate is used to secure up to 250 domains.
To buy a Wildcard SSL, you do not need to purchase any extra SAN certificate.
To secure multiple domains with a Multi-Domain SSL, you must purchase extra SAN individually for each domain.