Certera SSL Certificate Authority – Everything You Need to Know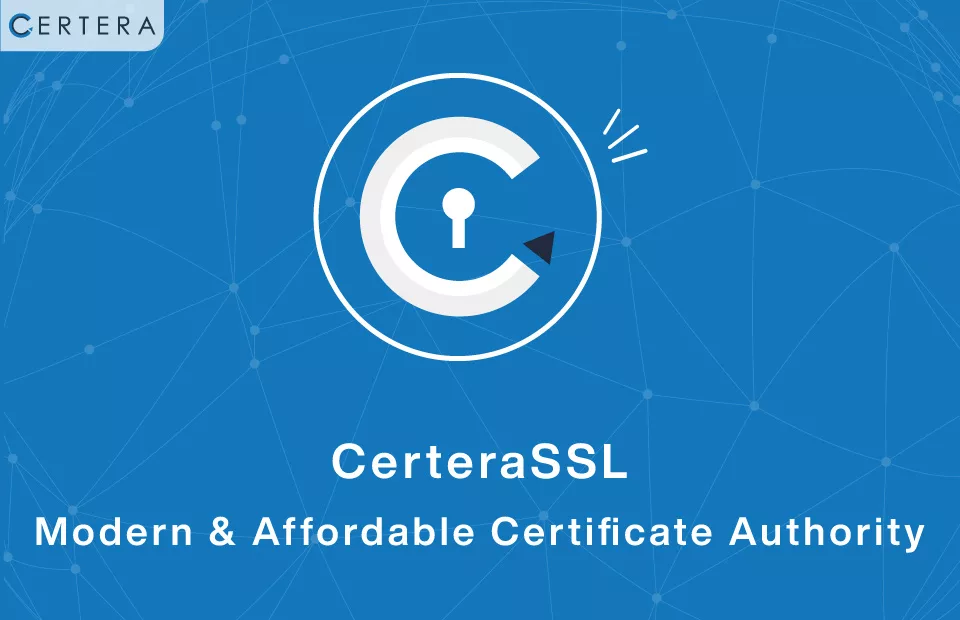 When you visit a website that opens with HTTPS, it is a validation that you use a certificate authority. But what are HTTPS and CA, and how do those approaches make your financial transactions and internet communications more secure?
Certificate Authorities (CA) are an important component of the Internet. You might be unable to use your credit cards, unable to do online shopping, or perform banking and monetary activities online if CAs weren't around since the internet will be unsecured.
Understanding the importance of CA and the benefits of an SSL certificate for your business website is essential.
Let us dive in!
What is SSL Certificate?
An SSL (Secure Sockets Layer) certificate is a piece of code on your web server that enables online communication security. When a web browser views your secure website, the SSL certificate allows for an encrypted connection.
An SSL certificate is a digital certificate that enables secure communication between a website and its visitors. Encryption protects all information sent between the website and its users, ensuring unauthorized individuals cannot intercept it. We often use SSL certificates for websites that require transmitting personal or sensitive information, such as e-commerce sites, banking sites, and social networking platforms. A trustworthy third-party certificate authority (such as certeraSSL) issues them, and we can usually recognize them by the padlock icon in the address bar of a web browser.
Learn more about How does SSL Certificate Works to secure your website.
What is Certificate Authority?
Creators made the internet allow unrestricted and efficient exchanges of information quickly. They initially did not consider security an important issue because they only used it for communication. However, the internet grew like wildfire, and everyone started to use it for e-commerce and sensitive information transmission. People with malicious intentions found this open communication system easy to take advantage of and exploit. As a result, the necessity for online security developed, and digital certificates entered the scene. The certificate authority will issue these security certificates.
A certificate authority is a credible and trusted organization that examines websites so that you know whom you're communicating with. CA's mission is to make the Internet more secure for organizations and users. It offers digital certificates that verify a website's or server's authenticity during an online session. Consequently, they play an extremely important role in digital security.
Various CAs, including reputed CA giants like Certera, Sectigo, Comodo, RapidSSL, GeoTrust, and DigiCert, provide SSL certificates. Online browsers and operating systems only trust CAs that adhere to strict standards set by the Internet Engineering Task Force (IETF) and operating systems.
CAs have become an important part of the Internet security ecosystem, performing as a gatekeeper to ensure that digital certificates are issued only to genuine or legitimate users. Typically, the verification process includes multiple phases, such as validating domain ownership, the legal entity behind the domain, and conducting background checks on the application organization.
Certera SSL Certificate Authority
Certera (Subordinate Public Certificate Authority) of Sectigo is a progressive and affordable certificate authority. It secures your website and online transactions by enabling Certera's strongest latest security standards, such as 256-bit encryption, SHA-2 algorithms, and more. An SSL certificate secures and encrypts all data sent between the website and the user, reducing the risk of vicious activities, data breaches, or theft. It easily converts your visitors into customers. It will secure your website with SSL certificates from globally accepted and recognized SSL brands. With Certera, you will get the finest SSL certificate options based on your requirements for all types and sizes of websites.
Certera has SSL certificates from three distinct brands: Certera, Comodo, and Sectigo.
It provides SSL Certificates across the board, from a single domain to several domains and sub-domains. Certera SSL Certificates include strong encryption, a trust Seal, a padlock, HTTPS in the URL, and an unlimited server license. The Trust Seal provides consumers with additional assurance, strengthening their trust in the website. It provides various SSL Certificates, including Certera SSL Certificate, Certera Multi-Domain SSL Certificate Flex, Certera SSL Wildcard Certificate, and Certera Code Signing. The provision of Domain validation, Organization validation, and extended validation will keep your website secure with the latest SSL encryption strength.
Significantly, Certera's customer service is another noteworthy characteristic. The organization has a team of expert support staff on hand 24 hours a day, seven days a week, to help clients with any difficulties or concerns. This degree of assistance can be crucial for organizations that must ensure their online communication is constantly accessible and secure.
Certera SSL Root Certificate
CAs issue root certificates as digital certificates to websites that use SSL certificates. Most browsers store these certificates in their trust stores. The issuing CA usually protects root certificates.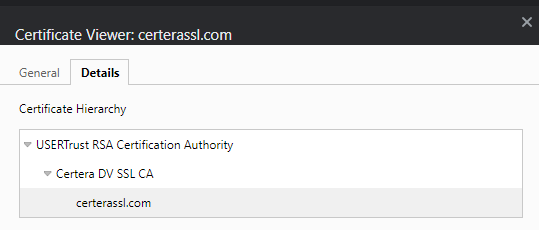 Certera is a sub-CA of Sectigo, one of the global CAs. This means that Sectigo will validate and issue Certera certificates; also, the root certificate of Certera will be Sectigo's; correspondingly, the certificate will be compatible with practically all web browsers and web servers.
We use the root certificate to create a trust chain between the web browser or device used by the end user and the website or service. Operating systems, browsers, and devices pre-install root certificates that verify the authenticity of the entity that issued the certificate.
Certera SSL Intermediate Certificate
The Intermediate Certificate is the next level in the certificate hierarchy. There will be one or more intermediary certificates across each certificate chain. These certificates are more like branches of the root certificate.
An Intermediate certificate sits between the Root and SSL certificates provided to a website or service. We use it to assist in building the trust chain between the root certificate and the end entity's certificate. An intermediate certificate is essentially a kind of "helper" certificate that allows an SSL/TLS certificate to be trusted by the end user's web browser or device. A trusted third-party CA issues and signs intermediate certificates using the CA's root certificate. They are also known as chained, subordinate, or chain certificates. Intermediate certificates add extra protection by establishing a more complex chain of trust, making it more difficult for attackers to compromise the root certificate. As previously stated, Certera is a sub-CA of Sectigo, and Certera's intermediate certificate will be Sectigo's.
How Website Looks in Browser Secured with Certera SSL Certificates?
In the following approach, you can know if a website is protected. CerteraSSL will appear in the browser address bar with a padlock icon and the "https" protocol; hence, the website's connection is secure, and all data transferred between the website and the user is protected by encryption to prevent unauthorized access.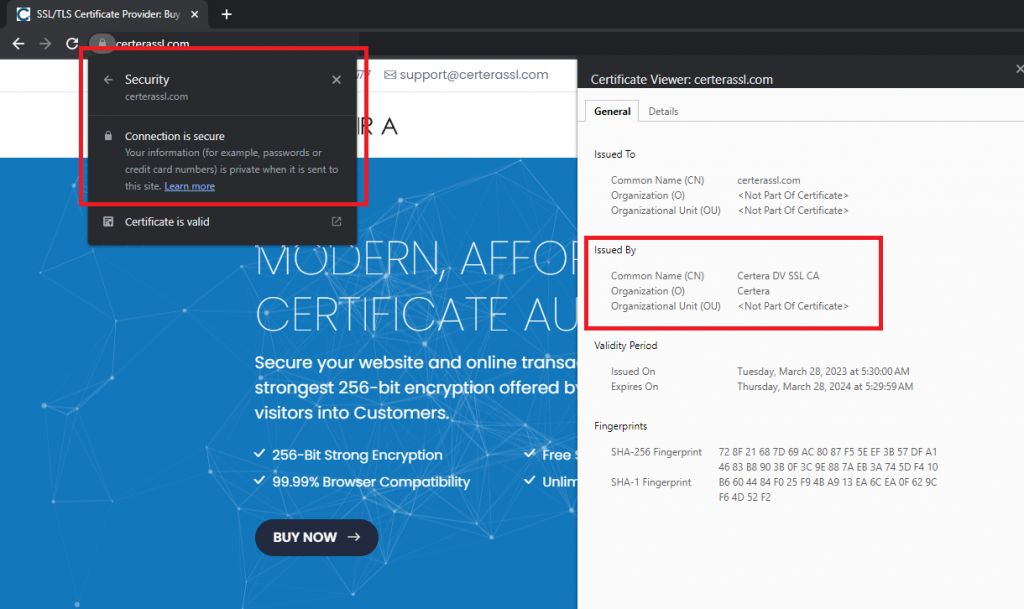 Most significant desktop browsers, such as Chrome, Internet Explorer, Firefox, and mobile browsers, explicitly show lock symbols to signify whether a site is secure using HTTPS.
As you can see below samples. The same page for wholefoodsmarket.com is seen in Chrome: one with HTTP (without CerteraSSL) and one with HTTPS (with certeraSSL); Chrome moves one step higher by labeling normal HTTP sites as "unsecured."
With these browser indications, website users are becoming more aware of distinguishing between safe and insecure sites. Differentiation is crucial for business websites with a recognizable brand image mirrored in their online presence.
Different SSL Certificates Provided by Certera SSL CA
Certera SSL CA provides domain-validated SSL certificates that follow all the CA/B Forum's security guidelines. It is most suitable for small to medium-sized companies.
It provides four different types of SSL certificates:
Certera SSL Certificate
Certera Multi-Domain SSL Certificate
Certera Wildcard SSL Certificate
Certera Multi-Domain Wildcard SSL Certificate
Certera Code Signing Certificate
Certera SSL Certificate
Certera SSL Certificate is a DV (Domain-Validated) single-domain SSL that provides basic SSL protection for a single FQDN. It features SHA-256-bit encryption and RSA-2048 key length. As a result, you can be assured that communication between the server and the client will be secured and protected.
Certera Multi-Domain SSL Certificate
A DV SSL certificate protects multiple domains with a single SSL certificate. If you have many domains, this SSL is strongly recommended. It consisted of 1 FQDN and 2 additional SAN domain security. Similarly, you can upgrade more SAN domains if you have more than two domains. Certera Multi-Domain SSL certificate is the best SSL to minimize SSL recurring tasks like CSR creation, which saves time.
Certera Wildcard SSL Certificate
A DV wildcard SSL secures a domain and unlimited sub-domains using the most recent encryption standard by simply verifying domain ownership. Certera Wildcard SSL certificate enables secure padlock and HTTPS URLs for domains and related sub-domains while avoiding the "Not Secure" alert typically shown in the top left address bar of a website that does not have SSL.
Certera Multi-Domain Wildcard SSL Certificate
The Certera Multi-Domain Wildcard SSL certificate is a widely recognized SSL certificate that provides security to multiple websites and their associated SAN wildcard domains. We can issue it within minutes, including essential trust indicators such as a secure padlock that prevents the "Not Secure" warning from appearing. This makes it an ideal choice for individuals who manage multiple websites that do not handle sensitive data.
Certera Code Signing Certificate
It is a standard code signing certificate that follows the most recent security standards and can be used to code sign an unlimited number of software and apps while embedding your unique digital signature. This code signing certificate needs an application to go through a simple business verification to validate the organization's legitimacy. By showing your digital signature, the Certera Code Signing certificate enables you to remove "unknown publisher" warns while building software user trust and confidence.
Certera SSL Certificate's Pricing Structure
| Certificate Name | Domain Coverage | Price/year | Issuance Time | Percentage of Cost saving | Money Back |
| --- | --- | --- | --- | --- | --- |
| Certera SSL Certificate | Single Domain (www and non-www) | $4.99 | Minutes | 83% | 30 Days |
| Certera Multi-Domain SSL Certificate (Flex) | Secures one domain +2 additional SAN | $9.99 | Minutes | 93% | 30 Days |
| Certera Wildcard SSL Certificate | Secures Unlimited Sub-domains | $27.99 | Minutes | 60% | 30 Days |
| Certera Multi-Domain Wildcard SSL | Secures Multiple Domains & Unlimited Sub-domains | $39.99 | Minutes | 87% | 30 Days |
| Certera Code Signing Certificate | Sign your Software Digitally | $169.99 | Minutes | 73% | 30 Days |
Why Choose Certera SSL CA?
CerteraSSL CA offers various significant benefits, such as strong SHA 256-bit encryption strength, trust signs, fast issuance, warranty, compatibility, and unlimited renewals for your purchased SSL certificate.
It provides an extensive variety of security solutions, including vulnerability assessment, website malware detection, and disaster recovery, in addition to SSL certificates. These solutions aim to help organizations identify and mitigate potential threats before they become significant problems.
Certera's SSL certificates and security solutions are quite affordable, making it an accessible option for organizations of all sizes. It is a great choice for organizations looking to protect their online communication because of its wide range of security solutions, reliable customer service, and affordable price.
Organizations can feel confident in the security and trustworthiness of their online communication by using advanced CerteraSSL certificates, a Trust Seal, and a variety of security solutions.
FAQs
Is Certera SSL a Trusted Certificate Authority?
Certera is a trustworthy and reliable brand that browsers and operating systems accept worldwide for standard SSL certificates. So, if you want to protect a single website, multiple websites, or subdomains, Certera's SSL certificates cover it all.
Is it Good to buy SSL from CerteraSSL?
Yes, It is worth buying SSL from CerteraSSL. It provides secure and reliable services for websites and companies by analyzing and understanding the importance of securing sensitive information. It maintains the confidentiality of clients' online transactions and the organization's reputation. Moreover, it has significant experience and competence in the field of website security.
Which SSL Certificate Types does CerteraSSL offer?
We provide a broad range of SSL/TLS certificates, including domain validation, organization validation, and extended validation certificates. These certificates are issued by globally recognized Certificate Authorities such as Comodo, Sectigo, and Certera, assuring customers the greatest degree of confidence.
Mainly, CerteraSLL offers four types of certificates
Certera SSL Certificate
Certera Multi-Domain SSL Certificate (Flex)
Certera SSL Wildcard Certificate
Certera Code Signing Certificate
How Much Time Does CerteraSSL Take to Issue SSL Certificate?
Certera SSL certificates have been developed specifically for domain-validated SSL solutions. You are no longer required to prove business ownership. Instead, you simply need to establish domain ownership by clicking the link in an email from the Certificate Authority Certera. Similarly, clicking that link verifies your domain ownership and your SSL certificate is granted within minutes.
What documents are required to issue SSL Certificate from CerteraSSL?
Set the OpenSSL configuration environment variable (optional)
Create a key file.
Make a CSR (Certificate Signing Request).
Submit the CSR to a CerteraSSL certificate authority (CA) to get an SSL certificate.
Configure Tableau Server to use SSL using the key and certificate.