How to Fix the SSL Connection Error on Android?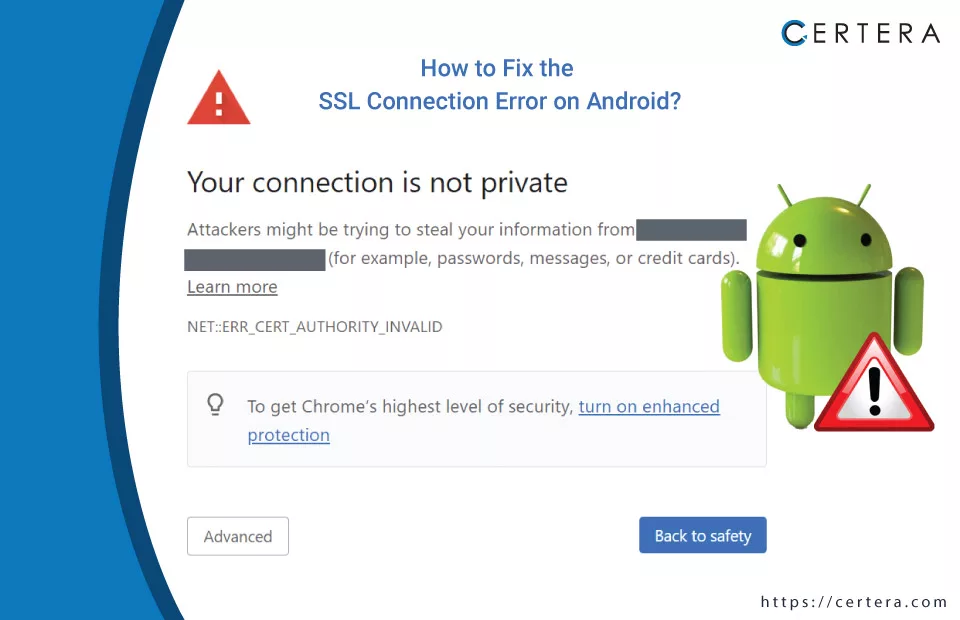 With an estimated 7.33 billion mobile phone users worldwide in 2023, 49.11% are using Android smartphones. Almost half of them (android users), nearly 25.55%, would have experienced an SSL connection error in the form of a browser message stating "Your connection is not private.," at some point while browsing the web or connecting to a site. So, what exactly is this error? Why it occurs? How to resolve it?
If you are perplexed by such queries and want to find the answers, you have landed on the – correct article. In this article, we will explore all there is to know about – "SSL connection errors that occur on Android devices." So, why wait? Let's start digging in.
What Does an SSL Connection Error Message Denote?
When an SSL connection error message pops up on an Android device, it implies that the – "SSL Certificate" installed on the website that you are trying to access cannot be – "Verified." When this happens, the mobile browser displays a – "security warning" (message) that says, "Your connection is not private."
Why Does an SSL Connection Error Occur on Android Devices?
An SSL connection error on an Andriod device can occur because of "n" number of reasons, such as:
Incorrect date and time
Use of antivirus software
Unsecured WiFi connection
Not clearing cookies and cache for a long time.
The use of firewalls as they may block some websites and IP addresses.
Incorrect installation of Transport Layer Security (TLS)/Security Socket Layer (SSL) on the website server, etc.
How to Resolve SSL Connection Error on Android Devices?
Before utilizing the methods mentioned below to resolve an SSL connection error on your Android device, try accessing other SSL-secured websites (Certera, Google, bing). If they run smoothly, the issue is likely with the server you're trying to access, and you should not try the methods mentioned below.
Here are some of the straightforward yet effective solutions to resolve this error:
Check Your Internet Connection is Stable or Not
Correct the Date & Time on Your Device
Clear Browsing Data
Reset Your Network Settings
Update Your App/Browser
Visit the Website in an Incognito Mode
Reset to Factory Data
Now, we'll examine each method thoroughly.
Method 1: Check Your Internet Connection
First things first, ensure that you have a – stable internet connection. SSL connection errors can sometimes occur due to a weak or interrupted connection. Follow the steps mentioned below to check your interconnection connection:
Open a web browser on Android.
In the URL bar, type the website's address or URL.
If you get the "Your connection is not private" warning message, open a fresh tab.
Type another website's address, like certera.com.
If you can access the website, it means that your internet connection is – stable. In such a case, move on to the subsequent method.
Method 2: Correct the Date and Time on Your Device
To avoid SSL connection errors, make sure your device's date and time are accurate and synced with the global time standards. Even minor differences in time can cause issues, and incorrect dates can make browsers think your SSL certificate has expired. Follow the steps mentioned below to correct the data and time on your Android device:
Click Settings.
Click General Management.
Click Date and time.
Toggle the Automatic date and time switch.
Toggle the Automatic time zone switch.
Note: Steps may vary based on the Android device that you are utilizing.
Method 3: Clear Browsing Data
Browsing data, like cached files and cookies, can interfere with SSL connections. Clear them from your browser settings to see if that resolves the issue. Follow the steps mentioned below to accomplish the same in Google Chrome:
Open a fresh tab in the Chrome mobile browser.
Click on three horizontal dots placed in the top right corner.
From the list, click History.
The History window will appear.
In the History window, click the blue Clear browsing data link.
Click the checkbox in front of the Browsing history checkbox.
Click the checkbox in front of the Cookies and site data checkbox.
Click the check box in front of the Cached images and files checkbox.
Click Clear data.
If the "Also clear data from these sites?" prompt appears, click Clear.
Method 4: Reset Your Network Settings
Sometimes, the network settings on your Android device might be causing SSL connection errors. Resetting these settings can often resolve such issues. Follow the steps mentioned below to accomplish the same:
Open the Settings app.
Select Connections.
Scroll down and click Reset network settings.
Choose Reset Wi-Fi, mobile & Bluetooth.
Confirm by tapping Reset Settings.
Enter your device's PIN, password, or pattern if prompted, and then confirm again.
Note: Resetting network settings will remove all Wi-Fi networks, paired Bluetooth devices, and mobile data settings.
Method 5: Update Your App/Browser
Outdated apps or browsers can lead to SSL connection errors due to compatibility issues or unpatched security flaws. Ensure your browser and other relevant apps are updated:
Open the Google Play Store application.
Tap on the Menu (three horizontal lines) icon, then select My apps & games.
Look for any available updates for your browser (like Chrome, Firefox) and other relevant apps. If updates are available, tap Update next to the app.
Regularly updating your apps ensures you have the latest security patches and features, potentially resolving SSL connection errors.
Method 6: Visit the Website in an Incognito Mode
Using Incognito Mode in your browser can sometimes bypass SSL connection errors, as this mode doesn't use the same cache or cookies:
Open your browser app (e.g., Chrome).
Tap on the Menu (three vertical dots) icon.
Select New Incognito Tab.
In the new tab, enter the website's URL and see if the SSL error persists.
Incognito Mode ensures a cleaner browsing state, which can sometimes resolve temporary SSL connection issues.
Method 7: Reset to Factory Data
If you cannot resolve the SSL certificate issue even after trying the above methods, reset your device. Resetting the device will erase everything on your device, so use it solely as your last resort. Follow the steps mentioned below to reset your device:
Open the Settings app.
Scroll down and select System.
Tap on Reset options.
Click Erase all data (factory reset).
Follow on screen instructions to complete the process.
Conclusion
SSL connection errors on Android devices can be solved through simple steps like checking internet connection and date/time settings, clearing browsing data, and updating apps. Start with the simplest method and move to more comprehensive solutions like factory reset if needed.