Unified Communications Certificate
Website security under Microsoft Unified Communication Server and Exchange Server. 2 Free SAN Added.
Comodo UCC SSL Certificate
Secures 1 Domain + 2 Additional SAN included
The Comodo UCC SSL certificate is the recommended option to secure a Microsoft Office Communication Server or Microsoft Exchange Server. It's an Organization Validated SSL certificate built for securing communications of different domains while reducing the server security administration complexity along with cost reduction. In addition, it's compatible with the Microsoft Exchange Autodiscover service, a new feature of the Exchange platform developed to ease the client administration process.
A Premium Multi-Domain SSL Certificate Designed for Microsoft Exchange Servers
30 Days Money Back
24x7 Support
Site Seal
Organization Validation
Comodo UCC SSL Certificate Is Issued After the Completion of the Validation Process
To get it issued, you must complete the certificate authority's validation process, where you must produce certain government-issued documents like business registration documents that are verified against the accepted government online database. Similarly, it's a 1-to-3-day process, and once it's completed, your SSL certificate gets issued.
Equipped with the latest encryption strength like SHA 256-bits and RSA 2048-bit signature key length, Comodo UCC SSL certificate, the business validated SSL certificate requires an applicant to undergo a business authentication process.
Domains Covered by Comodo UCC SSL Certificate
An organization-validated UCC (Unified Communications Certificate) SSL secures multiple domains configured on Microsoft Exchange servers. For instance, with one UCC SSL, you'll be able to secure
example-website.com
example-website.net
example-website.org
example-website.info
And so on. Similarly, you're allowed to secure 2 SAN domains by default, and after that, you can upgrade if you've more websites configured on Microsoft Exchange servers.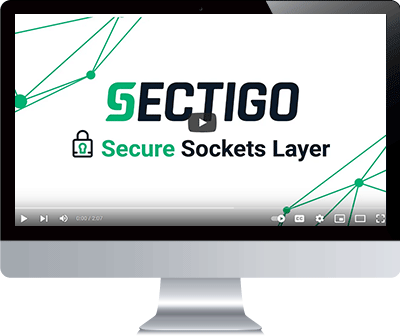 Comodo UCC SSL Certificate Features
Encryption level of strong SHA-256 Bit
Organization Validated SSL
Issuance from 1 to 3 Business Days
Company Name within SSL certificate
Comodo Site Seal
Multiple domains configured using Exchange Server
Unlimited Server License
RSA key length of 2048-bit
24x7 Support
Unlimited Reissuance
30 Days Moneyback Guarantee
$250,000 Warranty by Comodo
Advantages
Comodo UCC SSL Certificate Benefits
Easy to Manage & Cost-Effective
You can secure multiple business websites at the cost of one SSL certificate, which makes it cheaper than purchasing an individual OV SSL certificate for each website. Similarly, it becomes easier to manage as you don't need to remember the expiry or renewal date of multiple SSL certificates. In addition, you don't have to undergo multiple validation processes, nor you are required to generate multiple CSRs.
Light Business Authentication
An applicant needs to undergo a light business authentication process according to the policy of the certificate authority. Similarly, you need to produce certain local government-issued documents such as business registration details and provide publicly listed active telephone numbers of the company that are verified against an acceptable online government database. It's a 1-to-3-day process where light business verification is done to ensure business legitimacy, which helps build trust.
Secure Multiple Websites
UCC SSL certificate secures multiple business websites. By default, you're allowed to secure one main domain and 2 SANs. Similarly, suppose you have more domains and want to secure them. In that case, you'll need to purchase additional SANs, making it easier to secure your entire web presence using one single SSL certificate.
Trust Indicators
It's an OV SSL certificate that gives all the required trust indicators like company information in SSL certificate, HTTPS URLs, and secure padlock on all the websites that are secured using this UCC SSL certificate. Hence, these trust indicators help site visitors identify this website as trustworthy. Moreover, it conveys the message that the website is vouched for its legitimacy by a third-party security company that helps boost their trust to deal with your website.
Warranty
You can be assured you'll not face any SSL security-related issues that cost you money. Similarly, to acknowledge they're serious about it, certificate authority Comodo provides a warranty in the form of money.
Refund
After the issuance, you can cancel if the UCC SSL certificate doesn't match your expectations. Similarly, if you cancel your issued SSL certificate within 30 days of purchase, you'll get a 100% refund in your account.
Subscription

Savings of 49% over MSRP

Buy Now

Savings of 67% over MSRP

Buy Now

Savings of 44% over MSRP

Buy Now

Multiple Years Option
Domain Security
Secures 1 domain + 2 Additional SAN
Secures 1 domain + 2 Additional SAN
Secures 1 domain + 2 Additional SAN
Additional SANs
Add/Remove Up to 247 SANs
Add/Remove Up to 247 SANs
Add/Remove Up to 247 SANs
Issuance Time
1 to 3 Business Day
1 to 3 Business Day
1 to 3 Business Day
Validation Requirement
Organization Validation
Organization Validation
Organization Validation
Visible Trust Indicator
HTTPS URLs & Company Name in the Certificate
HTTPS URLs & Company Name in the Certificate
HTTPS URLs & Company Name in the Certificate
Encryption Strength
256-Bit Encryption
256-Bit Encryption
256-Bit Encryption
Site Seal
Comodo Site Seal
Comodo Site Seal
Sectigo Site Seal
Server Licensing
Unlimited
Unlimited
Unlimited
Installation/Technical Support
Warranty
$250,000
$250,000
$250,000
Refund Policy
30 Days Refund
30 Days Refund
30 Days Refund
Live Chat
Talk to our 24/7 SSL, Code Signing, & Email Signing experts to resolve issues regarding issuance, validation, & installation.
Live Chat
24/7 Email Ticketing
Connect with our support experts via call or support ticket for Validation, or sales queries.
Submit Ticket
SSL Resources and Tutorials
Frequently Asked Questions
Have Questions? We're here to help.
What is UCC SSL Certificate?
The UCC SSL is also known as the Unified Communication Certificate used to secure multiple website/domains on the Microsoft Office Communication Server and Exchange Server. It comes with the 2048-bit signature, 256-bit encryption strength and 99.99% browser compatibility.
How much time does CA take to issue this certificate?
Comodo UCC SSL Certificate is an organization validated SSL where the Comodo needs to verify the legal organization documents, address, telephone number, etc. this whole process takes up to 3working days.
How to install Comodo SSL Site Seal?
To install the Comodo Site Seal you need to obtain the HTML code from Comodo and add it to your website's footer section or else you should check our Site-Seal Installation guide.
we are rated 4.8/5
Real customer ratings and reviews at
Daniel B.
18 Jan - 2022
Pretty easy and straight forward
Brian L.
10 Feb - 2023
Quick and easy and a LOT cheaper for an EV Certificate than I previously have seen.
Jan D.
24 Feb - 2023
I'm very satisfied with the process of generating Code Signing certificate.
Trusted by leading brands Globally
Securing some of the World's
Largest & Best Known Brands