Advance Level Encryption
Encrypt your website traffic with strong 256-bit Encryption strength of Sectigo.
Sectigo SSL Certificate
Secures Single Domain with www and non-www
Sectigo SSL certificate is an entry point SSL certificate from the globally respected certificate authority Sectigo. It offers security for a single FQDN (Fully Qualified Domain Name) with robust modern 2048-bits RSA keys and 256-bits encryption standards.
Secure Your Domain Using Robust 256-Bit Encryption - Buy Sectigo SSL Certificate Today
30 Days Money Back
24x7 Support
Site Seal
Domain Validation
Sectigo SSL – HTTPS Encryption Perfect for Websites Looking for Minimal SSL Security
Available in ECC (Elliptic Curve Cryptography), the Sectigo SSL certificate is a perfect SSL certificate for someone who wants basic encryption security from a trusted source. Being a DV (Domain Validated) SSL, it offers the strongest level of encryption security, making a perfect SSL certificate for small websites that don't deal with the user's sensitive information.
Similarly, it doesn't require an applicant to undergo business verification. Instead, it gets issued within minutes are the completion of domain ownership verification, which is done by simply clicking the link received in an email from the certificate authority.
Essential SSL Security Indicator to Make Your Website Appear Trustworthy
It comes with all the essential SSL security indicators like a secure padlock, HTTPS URLs, and a static site seal that helps prevent the "Not Secure" warning while giving assurance your website is trustworthy.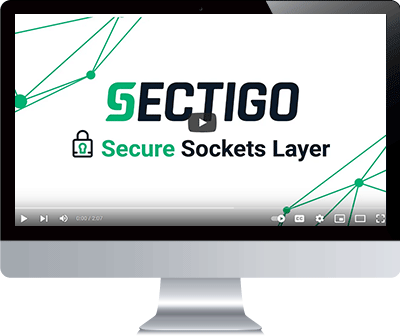 Sectigo SSL Certificate Features
Domain Validation
256-Bit Encryption
Issuance in Minutes
256-Bit Encryption & 2048-Bit Signature
Document Less Certificate Issuance
Sectigo Site Seal
30-Day Moneyback Guarantee
$500,000 Warranty from Sectigo
Unlimited Server License
99.99% Browser Trust
Secure www & non-www domain
Anytime Reissuance
Advantages
Sectigo SSL Certificate Benefits
Secure Website Within Minutes
A domain validated SSL gets issued within minutes once the domain is verified. Likewise, it helps establish trust with your site visitors. Sectigo SSL certificate shows the visible trust signs like HTTPS URLs and Site Seals that convey website is trustworthy and validated by the certificate authority Sectigo.
Secures WWW and Non-WWW Both
It secures a single FQDN (Fully Qualified Domain Name). With the Sectigo SSL, you can secure both the versions www and non-www versions of your website. For instance,
https://domainexample.com
https://www.domainexample.com
Warranty
All Sectigo SSL certificates come with a certain warranty. So, if your site ever gets hacked or site visitors get affected by any attack due to any mistake made by the CAs (Certificate Authorities) during installation, the certificate authority may give you reimbursement for damages for up to $500,000.
Compatible With Popular Browsers
The Sectigo SSL certificate comes with the highest level of compatibility for mobile and desktop browsers. Likewise, installing SSL helps lessen SSL-related warning messages that scare away site visitors whenever someone tries to access it.
Unlimited Reissuance for Free
This Certificate comes with unlimited re-issuance. Henceforth, if you lose your private key or find installation hard, you can get a new SSL certificate issued free of cost.
Trust Indicators
After buying this certificate, you will get visible trust indicators such as displaying secure HTTPS URLs and static site seal by the CA (Certificate Authority) that helps build user trust and confidence.
Subscription

Savings of 51% over MSRP

Buy Now

Savings of 49% over MSRP

Buy Now

Savings of 67% over MSRP

Buy Now

Multiple Years Option
Domain Security
Secures 1 Domain
Secures 1 Domain
Secures 1 Domain
Issuance Time
Minutes
Minutes
Minutes
Validation Requirement
Domain Authentication
Domain Authentication
Domain Authentication
Visible Trust Indicator
HTTPS URL & Secure Padlock
HTTPS URL & Secure Padlock
HTTPS URL & Secure Padlock
Encryption Strength
256-Bit Encryption
256-Bit Encryption
256-Bit Encryption
Site Seal
Sectigo's Site Seal
Comodo's Site Seal
Comodo's Site Seal
Server Licensing
Unlimited
Unlimited
Unlimited
Installation/Technical Support
Warranty
$500,000
$250,000
$10,000
Refund Policy
30 Days Refund
30 Days Refund
30 Days Refund
Live Chat
Talk to our 24/7 SSL, Code Signing, & Email Signing experts to resolve issues regarding issuance, validation, & installation.
Live Chat
24/7 Email Ticketing
Connect with our support experts via call or support ticket for Validation, or sales queries.
Submit Ticket
SSL Resources and Tutorials
Frequently Asked Questions
Have Questions? We're here to help.
What Is the Sectigo SSL Certificate?
Sectigo SSL certificate is a type of X.509 digital security certificate that helps secure information and data transmission between client and server using the latest encryption standards.
Is Sectigo a Trusted Certificate Authority?
Sectigo is a globally respected certificate authority known for its inexpensive SSL certificate with the latest security and encryption standards. Sectigo offers SSL for all sizes of companies that helps secure websites while giving assurance that the site is safe to visit.
Is Sectigo SSL Certificate Right for My Website?
It is a DV (Domain Validated) SSL certificate that assures you to get basic SSL security like HTTPS URLs and a static site seal to boost user trust. Henceforth, if your site doesn't deal with any sensitive information, the Sectigo SSL is a good option.
Is Sectigo SSL good?
Anyone who wants basic SSL security simply to prevent Not Secure warning without undergoing business verification for them Sectigo SSL certificate is good to go.
Is Sectigo SSL a domain validation SSL?
Yes, the Sectigo SSL certificate is a domain validation (DV) SSL certificate, which is useful to secure websites like blogs or content-based websites that don't collect sensitive user information.
we are rated 4.8/5
Real customer ratings and reviews at
Daniel B.
18 Jan - 2022
Pretty easy and straight forward
Brian L.
10 Feb - 2023
Quick and easy and a LOT cheaper for an EV Certificate than I previously have seen.
Jan D.
24 Feb - 2023
I'm very satisfied with the process of generating Code Signing certificate.
Trusted by leading brands Globally
Securing some of the World's
Largest & Best Known Brands