Affordable UCC Certificate
Secure up to 250 domains on multiple servers with highest level encryption
Sectigo UCC SSL Certificate
Secures 1 domain + 2 Additional SAN included
Sectigo UCC SSL Certificate or Unified Communication SSL certificate is specifically built for enabling HTTPS across multiple domains to save the SSL management time and money. By purchasing a one UCC SSL certificate, you can protect communication of 250+ domains at once; in addition, it's compatible with Microsoft Exchange, Communications, and all other servers to provide seamless & secure flow of data to and from client-to-server and server-to-client.
Secure up to 250 Websites With single UCC SSL Certificate
30 Days Money Back
24x7 Support
Site Seal
Organization Validation
Data Integrity Assurance For Each End-User Through Rock-Solid 256-Bit Encryption
Whether you add 5, 10, 50, 100 or the maximum of 250 domains under the Sectigo UCC SSL certificate, it will utilize the same encryption algorithm for all with same strength. Overall data will be transmitted in a secure channel with the assurance of its integrity, confidentiality, and availability. Moreover, Sectigo aligns its solution with all CA/B standards and never lacks in providing relevant updates as necessary.
Furthermore, you can avail unlimited server licenses to install the Sectigo UCC SSL certificate on different exchange servers without impacting performance, and through the multiple trust indicators you get with it, your visitors will automatically understand brand legitimacy and authenticity.
The Domain Coverage With Sectigo UCC SSL Certificate
A Sectigo UCC SSL protects a maximum of 250 domains, with the first purchase it offers security for 1 domain and 2 additional SANs. If you want more domains to get coverage by the same UCC SSL certificate, you need to buy more SANs and add them to the list.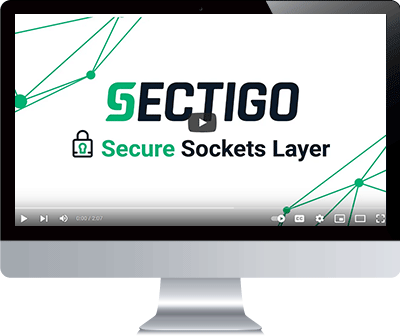 Sectigo UCC SSL Certificate Features
Strong 256-bit encryption
Organization Validation SSL
Issuance in Minutes
company name within SSL certificate
HTTPS URLs, secure padlock
Dynamic Site Seal of Sectigo
Secure Up to 250 domains
Unlimited Server License
2048-Bit Signature
99.9% Browser Trust
$1,000,000 Warranty
30 Day Moneyback
Advantages
Sectigo UCC SSL Certificate Benefits
Multiple Domain Security
Sectigo UCC SSL Certificate enables you to configure HTTPS protocol on more than 200 websites simultaneously. It uses the SAN technology, under which you can buy multiple SANs for different domains and add them to the list of UCC SSL certificate. It also helps to save your time, efforts and cost, as you undergo validation process only one time.
High Retention Rates
You get multiple noticeable trust indicators with the certificate, which includes a padlock icon in the address bar, HTTPS in the URL, and a site seal. By displaying the site seal on your websites, you can tell your visitors that a Certificate Authority has verified you and each single bit of data is being transferred in a secure way. It builds customer confidence and retains it.
Seamless User Experience
As Sectigo follows all the CA/B and other industry guidelines, policies, and protocols, all its solutions, including the UCC SSL Certificate comfortably fulfil server and browser requirements. It provides a zero-security warning and quick website loading experience to every user, leading to optimize customer success rate, productivity, and revenue.
Server and Browser Compatible
UCC SSL Certificate from Sectigo is completely compatible with all browsers, including Mozilla Firefox, Google Chrome, Safari, Internet Explorer, Microsoft Edge and more. Also, you can configure it on any server, including Microsoft Exchange and communications server of any version. Besides it, due to unlimited server licensing, it leverages to utilize single certificate on multiple servers.
Robust Encryption Algorithm
All the domains you listed under the certificate will get the benefit of 256-bit SHA encryption, it will ensure each bit in the transmission channel and will maintain its integrity and confidentiality. Along with it, SSL certificate offers a 2048-bit RSA keys for generating a session only between the legit and authenticated server and the client browser.
Reliable Warranty & Cancellation Policy
Sectigo offers a 30-day cancellation policy, in which if you didn't utilize the SSL certificate and cancel the order within the first thirty days, all your money will get transferred back. And in case you encounter a cyber-attack, whose primary root cause is the digital certificate, then Sectigo will compensate you with a warranty amount to recover your losses.
Live Chat
Talk to our 24/7 SSL, Code Signing, & Email Signing experts to resolve issues regarding issuance, validation, & installation.
Live Chat
24/7 Email Ticketing
Connect with our support experts via call or support ticket for Validation, or sales queries.
Submit Ticket
SSL Resources and Tutorials
Frequently Asked Questions
Have Questions? We're here to help.
What is UCC SSL Certificate?
A UCC (Unified Communication Certificate) SSL Certificate is for securing communications of multiple domains using only one SSL certificate. It works like Multi-Domain SSL certificate, but highly focuses on fulfilling the requirements of Office Communication and Microsoft Exchange Servers.
Which servers are most compatible with Sectigo UCC SSL Certificate?
Sectigo UCC SSL certificate is compatible with all major servers. However, experts consider it most reliable for Microsoft Live® Communications Server, Exchange Server 2016 and Microsoft® Exchange Server 2013.
Why UCC SSL Certificate is important?
The UCC SSL Certificate is important for aligning with mandatory industry standards to provide a secure ecosystem to website visitors. And it also aids in enabling HTTPS protocol on each domain hosted using only one IP address. You can add SAN certificates under one IP and protect multiple domains with a single Sectigo UCC SSL Certificate.
How much time does CA take to issue the UCC SSL?
The Sectigo UCC SSL Certificate comes with an organization validation, where the Sectigo team need to verify all legal business documents and domain name, which can take up to 3 days.
we are rated 4.8/5
Real customer ratings and reviews at
Daniel B.
18 Jan - 2022
Pretty easy and straight forward
Brian L.
10 Feb - 2023
Quick and easy and a LOT cheaper for an EV Certificate than I previously have seen.
Jan D.
24 Feb - 2023
I'm very satisfied with the process of generating Code Signing certificate.
Trusted by leading brands Globally
Securing some of the World's
Largest & Best Known Brands